Tatuaje Colecciones Robusto Sampler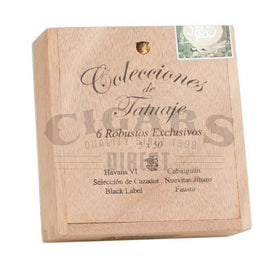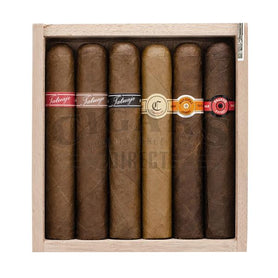 If you're a fan of Tatuaje and Robustos, the Tatuaje Colecciones Robusto Sampler is going to make your day. This is the first robusto offering for four of these blends—Fausto, Cabaiguan, Nuevitas Jibaro, and Selección de Cazador. Take a front-row seat to Pete Johnson's single-minded vision to produce premium boutique cigars that rival or match those of Cuba. Of course, this is a lofty, uphill climb for any cigar maker, but we're not complaining. It's quite delicious to follow Pete's journey from one savory creation to the next.

This quality sampler contains one of each of the following cigars.

Tatuaje Fausto

Kicking off this Robusto party is the Fausto. This quality cigar uses a Nicaraguan binder to cradle a mouthwatering blend of high-quality long-leaf fillers of the same origin. A dark, lively Ecuadorian Habano Maduro leaf ties it all together. The darkness of this leaf really makes the red band pop. Here is a well-balanced smoke that is quite bold. Fausto translates to "splendor" and the name is fitting. Once the Fausto meets your lighter, things get delightfully complex. Expect billowing clouds of smoke with flavors of dried fruit, cedar, and earthiness.

This stick is smooth and strong, especially in the 5 x 50 size available in the Tatuaje Colecciones Robusto Sampler. If you're new to the cigar game, you should probably steer clear of this stick for a while.

Tatuaje Havana VI

Gather a bunch of cigar manufacturers together, and you'll find many are in some way trying to create cigars in the classic traditions of Cuban. Tatuaje founder Pete Johnson is indeed among this group, and we're all the better for it.

With the 93-rated Tatuaje Havana VI, a red-hued oily Ecuador Habano wrapper is the first thing to catch the eye. This leaf carefully cradles a robust, aged Nicaraguan long-filler blend. The Havana VI may be medium in body, but don't let that fool you—this one has more than enough kick to go around. With a superb draw and razor-sharp burn, the Tatuaje Havana VI sends you to a bygone era of classic Cuban cigars. Flavors of spice, wood, pepper, and leather coat the palate through a creamy smoke. Enjoy this time away in the Havana of your backyard.

Tatuaje Cabaiguan

It's time to bring things down a touch with the mellow to medium Cabaiguan. The wrapper here is a golden Ecuadorian Connecticut leaf that seems bright enough to light up any room. The color resembles cheesecake crust, and it'll make your mouth water for the delicious smoke to come. Once lit, this leaf goes to work on Cuban-seed Nicaraguan filler to deliver dark chocolate, floral, and espresso notes. This is an excellent cigar for any occasion, especially a calm Saturday morning with your favorite coffee.

Tatuaje Black Label

There was a time when you had to attend a Tatuaje event or bear the name Pete Johnson to get your hands on a Black Label. Lucky for us, this time has passed, and you can get one of your own Black Labels in the Tatuaje Colecciones Robusto Sampler. There's nothing like gaining access to a secret, even if you're not the only one. There are Tatuaje fans out there who consider the Black Label one of Tatuaje's best blends. While these things are, of course, subjective, it is not a difficult argument to make with a premium cigar like this one.

The leaf is a sun-grown Criollo Estelí which cradles a fine blend of Nicaraguan tobacco. The result is a top-shelf world of spice, espresso, leather, and cinnamon.

Tatuaje Nuevitas Jibaro

Once upon a time, the Nuevitas line was the sole Pete Johnson blend not produced by Pepin Garcia and family, but that time is no more. The Nuevitas is now in the hands of the Garcias, and you're getting one in the Tatuaje Colecciones Robusto Sampler. Brimming with flavor from a Corojo-seed '99 leaf and pure Nicaraguan binder and filler tobaccos, this medium-full cigar with a shaggy foot is back and ready for business. Open its doors with your lighter, and you'll enjoy flavors of earthiness, leather, wood, and cocoa.

When the Nuevitas was discontinued in 2007, fans of the blend thought it was curtains for good. You never know when a beloved cigar will become unavailable. Thankfully the Nuevitas is back. It's time to enjoy every second of it.

Tatuaje Selección de Cazador

Closing out this topflight sampler is the Selección de Cazador, also known as the Brown Label. This is the first cigar line released by Tatuaje and the first Pepin Garcia created solely on his own. It's always a treat to smoke the first creation of a celebrated brand, especially one at this level of quality.

Medium to full-bodied, this classic blend is made of Cuban-seed tobaccos cultivated from lush Nicaraguan soils and an Ecuadorian Habano wrapper. Built to please in the classic tradition of Cubans, the result is a rich experience of cedar, earth, spice, and cocoa. The Selección de Cazador's finish is long and creamy, keeping this cigar on the mind long after it hits your ashtray.

Please enjoy the Tatuaje Colecciones Robusto Sampler at your leisure.

Customer Reviews
Write a Review
Ask a Question
05/13/2021
Jaime s.

United States
Love me some Tatuaje!
I'm a fan of Tats, and this was a great representation of what this brand offers. Great Stix, and much respect to the company!
Payment & Security
Your payment information is processed securely. We do not store credit card details nor have access to your credit card information.