Tatuaje Black Britanicas Extra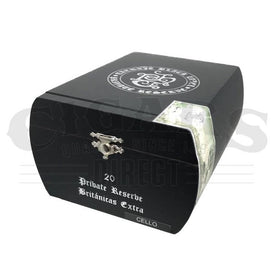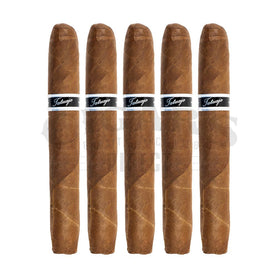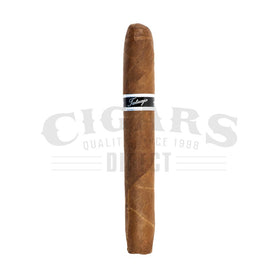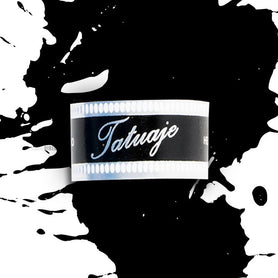 This Tatuaje Black Britanicas Extra cigar is made in Nicaragua. Outside, you'll find a Sun Grown Criollo wrapper. Inside, the binder is Nicaraguan, and the filler is Nicaraguan. The Tatuaje Black Britanicas Extra is a Medium to Full bodied Britanica shaped cigar with a length of 5.37 and a ring gauge of 48. In September 2020 only 500 boxes totaling 10,000 cigars of this flavorful cigar were crafted.
Tatuaje Black Britanicas Extra cigars are the latest in the Tatuaje Black Label line. It began with Private Reserve and has been regularly home for excellent smokes since then.

The inspiration for the line is something a lot of us can probably identify with. If you like nature, hunting, fishing, hiking, or just unplugging and staring off into space, you know what it's like to be fully disconnected from modern life. You finally get to lay down the incessant thoughts of normal life, especially your job and take some time to just exist like a real human being for a change.

Tatuaje founder Pete Johnson was on one such sabbatical in Cuba. He was living rustic for a bit, and just enjoying himself without a care in the world aside from what to smoke next. A local come by on a bike in the mornings and shared his private rolled cigars with Pete, and these made quite a mark. Unbelievably, they were among the best he had on his trip!

These became the inspiration for Black Label cigars.

The newest installment in the form of the Black Britanicas Extra is true to what makes this line so enjoyable. It still features Nicaraguan long-fillers and a strong sun-grown Criollo wrapper from Estelí. Beauty and flawlessness were never the goal with Black Label, and Britannica's Extra has stayed natural. You'll see marbling, veins, toothiness, and plenty of oil, right from the get-go. These are organic and local in the way that anything off a farm might be.

The flavors are rich and variable, earning Black Britanicas Extra cigars a 92-point rating from Cigar Aficionado. You'll get your black pepper introduction, and then taste cedar along with strong espresso. Notes of cocoa nibs and earth, along with flashes of cinnamon, will bring you to that place far from modernity. These are cigars to enjoy without a phone by your side or any electronics. Take these somewhere and simply kick back and be. Enjoy the experience and take an hour off from normal life with these little Perfectos, if you can.

Your soul will thank you.

Please enjoy Tatuaje Black Britanicas cigars at your leisure.

- What are the flavors like? Black pepper, cedar, espresso.

- What's the strength level? Medium-full.

- Who is this cigar for? Tatuaje Black Britanicas cigars are for people who need a break and want a private-style blend to give to them.

- Will I want to smoke it to the nub? Most definitely.

- What's a good pairing with it? A simple beer from down south, like a Dos Equis. This cigar tastes better with some Spanish.

- What's the best time/place to smoke this cigar? When modern life is just too ridiculous to take one more minute of.

- Any flaws/downsides? It's not a big departure from previous versions. If you're looking for novelty from Tatuaje, this ain't it.

Customer Reviews
Write a Review
Ask a Question
Payment & Security
Your payment information is processed securely. We do not store credit card details nor have access to your credit card information.