Oliva Serie V Melanio In The Round Nub Lmtd.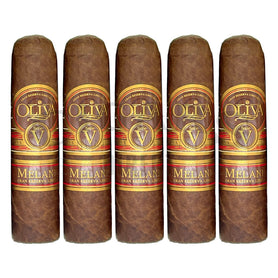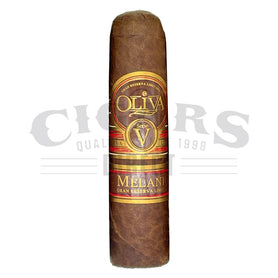 This one is so good we shouldn't even sell it. We should just close our doors, lower the lights, and spend all our time in a beautiful cloud of smoke made by these Oliva Serie V Melanio Nub In The Round Limitada cigars.

But we won't do that. We're givers, and we like to share the joy of tobacco.

Does this cigar even need an introduction? It's 2014's #1 Cigar of the Year, according to Cigar Aficionado. It topped the charts with a 96-point rating. The Serie V began as a Nicaraguan puro, but with the addition of that Ecuadorian Sumatra wrapper, it took on a whole new life as a world-beater. CA described it as having "… rich, big notes of leather framed by a range of coffee, caramel and woody intonations." They also simply stated, "It's a classic smoke."

Oliva cigars almost always show up on annual best-of-charts, and flavor profiles like these make them undeniable. They just can't be kept out of the winner's circle. They're too tasty!

Oliva Serie V Melanio Nub In The Round Limitada cigars give you a fresh take on the Melanio experience. Instead of a slower development into the famous profile, you get right into the thick of things thanks to the Nub size. And of course, that's just what these 4 x 60 cigars were meant to do. You dive into full flavor right from the get-go. This profile is roughly what you'd expect, although it seems that the draw is a bit more open, and the notes are a touch more bready.

If you see other versions of these around, just know that there was a box-pressed version sold in the States and this round version was initially sold abroad. Now, you can get whatever you want.

A truly great blend, a fun format – what's not to like?
This Oliva Serie V Melanio Nub In The Round Limitada cigar is made in Nicaragua. Outside, you'll find an Ecuadorian Sumatra wrapper. Inside, the binder is Nicaraguan, and the filler is Nicaraguan. This is a Nub cigar with a length of 4.00 and a ring gauge of 60.
Please browse our selection of Oliva Serie V Melanio Nub In The Round Limitada cigars at your leisure.

• What are the flavors like?
o Leather, coffee, caramel, wood

• What's the strength level?
o Full

• Who is this cigar for?
o Oliva Serie V Melanio Nub In The Round Limitada cigars are for folks who want that famous flavor in a smaller package and with quicker access.

• Will I want to smoke it to the nub?
o Well, it's kind of already there. But yes, definitely.

• What's a good pairing with it?
o It's cliché to pair a cigar with a nice sipping whiskey, but the heart wants what the heart wants. Pour us some Woodford Reserve Kentucky Straight Bourbon – that stuff never gets old.

• What's the best time/place to smoke this cigar?
o When you have less than an hour, but you want to make it count.

• Any flaws/downsides?
o The Melanio is at its peak in the figurado vitola.
Payment & Security
Your payment information is processed securely. We do not store credit card details nor have access to your credit card information.