La Flor Dominicana Maduro Cabinets No.6 Torpedo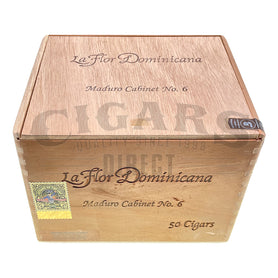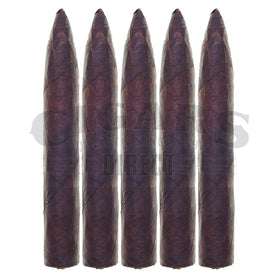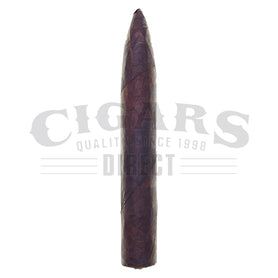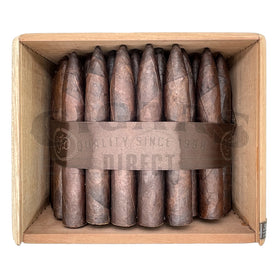 This La Flor Dominicana Maduro Cabinets No.6 Torpedo cigar is made in the Dominican Republic. Outside, you'll find a Connecticut Broadleaf Maduro wrapper. Inside, the binder is Dominican, and the filler is Dominican. This is a Torpedo cigar with a length of 5.75 and a ring gauge of 54.
Why have ONE chocolate bar when you can have the whole box? The 50-cigar cabinets are not always available, but the La Flor Dominicana Maduro Cabinets blend should generally be in singles and five packs. It's a deliciously earthy cigar that offers some of the flavors notes that La Flor Dominicana does so well, like dark chocolate and black coffee. These aromas, coming partly from the Dominican tobacco long-filler blend, are taken to the next level by the Connecticut broadleaf wrapper.

It's a potent, full-strength combination for true cigar lovers who demand that rich, nighttime flavor.

Dominican leaf has long been used by a number of cigar companies that are among the world's most famous. While Habano Corojo is relied on for that classic peppery, cedar Cuban flavor, a nice Dominican Maduro brings something different. These smokes are famous for their leathery and rich earth notes. You'll find them on world-class hits like the Fuente Fuente OpusX and the 2016 Cigar Aficionado Cigar of the Year winning Andalusian Bull, which happens to be from La Flor Dominicana.

Connecticut broadleaf brings something complementary from fields that are thousands of miles away. This wrapper leaf is also fermented to perfection, bringing shadowy flavors from the dark end of the spectrum, and even savory notes like spiced meat. You'll find it on favorites like the Drew Estate Liga Privada No. 9, CAO Flathead, and more. By bringing this together with Dominican leaf, La Flor Dominicana Maduro Cabinets double down into the dirt, bringing robust taste and a hint of sweetness to make the smoke oh-so delectable.

We see why these became the "cabinet" blend from La Flor Dominicana. They're just perfect to have a loaded box in your smoke spot. It's the kind of smoke we're almost always in the mood for and can never have too many of. They make a great handout at a drinking session with buddies and turn any smoke session into something that you know will be satisfying.

Reach into the cabinet. You're going to like what you pull out!

Please browse our selection of La Flor Dominicana Maduro Cabinets cigars at your leisure.

• What are the flavors like?
o Black coffee with a chocolate bar.

• What's the strength level?
o Full.

• Who is this cigar for?
o La Flor Dominicana Maduro Cabinets are for fans of earthy flavor who want to plunge into the sweet darkness.

• Will I want to smoke it to the nub?
o You're not going to be able to stop.

• What's a good pairing with it?
o Beers or whiskey would be nice. Maybe punch things up with a dark IPA like Indeed's Midnight Ryder.

• What's the best time/place to smoke this cigar?
o When the party's just getting started.

• Any flaws/downsides?
o Nah.
Payment & Security
Your payment information is processed securely. We do not store credit card details nor have access to your credit card information.