La Flor Dominicana Andalusian Bull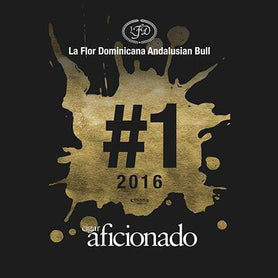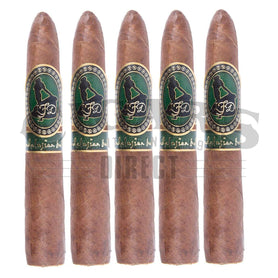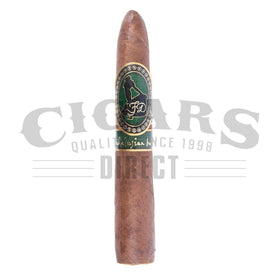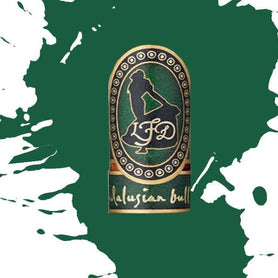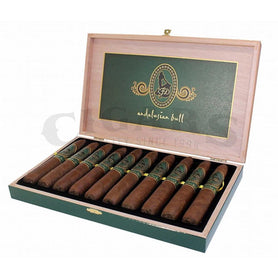 The 2016 No.1 Cigar of the Year was the amazing La Flor Dominicana Andalusian Bull cigar which is made in the Dominican Republic. Outside, you'll find an Ecuadorian Corojo wrapper. Inside, the binder is Dominican, and the filler is Dominican. The La Flor Dominicana Andalusian Bull is a Full-Bodied masterfully crafted Salomon-shaped cigar with a length of 6.50 and a ring gauge of 64.
La Flor Dominicana is a brand of contrasts. Its name makes you think that it has been run by the same family in the Dominican Republic for a hundred years, and it is in fact one of the most successful brands that show the cigar world what the DR has to offer. But it was founded in 1996 by Litto Gomez who came to the DR in 1994 from Miami. Okay, you might say, so he's one of the many Cuban emigres who set up shop in the Dominican like the folks behind Montecristo, Romeo y Julieta, and Cohiba. But no, Litto Gomez was born in Spain to a family that had nothing to do with cigars, raised in Uruguay, and ran a jewelry shop just three years before starting LFD until an armed robbery convinced him to quit the jewelry game and turn to cigars. And yet, his cigars have come to redefine how people see Dominican tobacco and he has become perhaps the most successful blender on the island.

La Flor Dominicana's cigars have reflected this contrast between Dominican tradition and outside innovation and entrepreneurship. Gomez's first offerings were standard Dominican fare: mild, nutty, smooth cigars from Cuban-seed tobacco that could easily pass for a non-Cuban Montecristo or a cigar by homegrown blender La Aurora. But he had grander visions of becoming a true pioneer in the industry. These initial cigars allowed him to hone his craftsmanship while he continued to perfect the cultivation of binder, filler, and eventually even wrapper leaves on his 120-acre farm in La Canela. He also began to make a name for himself for his unusually shaped cigars: the rotund and sharply tapered El Jocko Perfecto No. 1 released in 1997 and The Chisel, first released in 2003 and now iconic thanks to his groundbreaking Double Ligero edition. Then, after ten years in the industry, Gomez become one of the most sought after blenders in the business. The Coronado, a unique combination of mellow, rich Dominican fillers and a powerful pepper-bomb Nicaraguan Habano wrapper was Cigar Aficionado's #2 Cigar of the Year in 2006.

Ten years after this accomplishment, Gomez outdid himself and took the top prize with the 2016 Cigar of the Year: Andalusian Bull. This masterpiece represents the signature blending style and enigmatic contrasts that make La Flor Dominicana so remarkable. Its name and band pay homage to Gomez's Spanish heritage, but the blend itself is unmistakably Dominican, albeit Gomez's unique take on Dominican. The binder and long-fillers are 100% Dominican and grown under Gomez's watchful eye on the LFD farm. Only the wrapper is not Dominican, an earthy and spicy Ecuadorian Corojo. And the shape? True to form, Gomez has bucked tradition and crafted a true 'bull' of a cigar using an antique mold he happened across in Belgium. It starts out as a massive 64-gauge cigar just before the foot, where it tapers sharply for easy lighting. But from there it tapers rapidly, taking an almost cone shape to become quite manageable at the cap.

So how does this beast of a cigar smoke? It's as full-bodied as you could hope from a cigar named after the famous Spanish fighting bulls, but also straight-up tasty. It starts off with a savory-sweet combination of earthy leather, caramel, and milk chocolate. But as you continue to smoke, you'll soon be greeted with waves of exotic spices, red pepper, and refreshing citrus that makes for a truly complex experience. The cigar's unique shape allows the flavors to build wonderfully with each puff, blending the sweet base notes, citrus high notes, and spicy backbone for a harmonious crescendo of flavors. For doubters of Dominican cigars, who think that they're all mellow one-note cigars or straightforward Cuban blends, La Flor Dominicana Andalusian Bull shows just how great they really can be. The last three Cigar of the Year winners have all been from the Dominican Republic, but the Andalusian Bull surpasses the others for brute strength married with smooth complexity.
Payment & Security
Your payment information is processed securely. We do not store credit card details nor have access to your credit card information.