La Flor Dominicana 25th Anniversary Churchill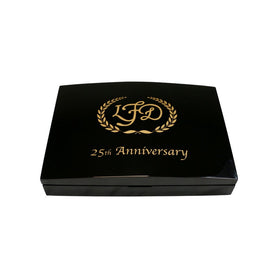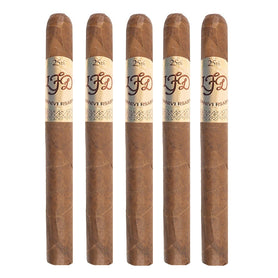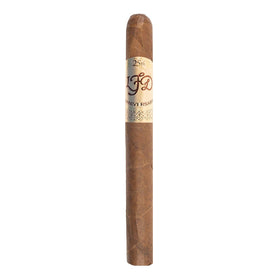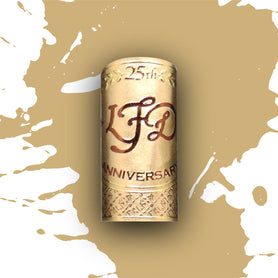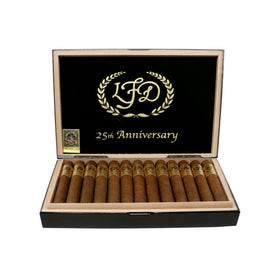 This La Flor Dominicana 25th Anniversary Churchill Cigar is made in the Dominican Republic. Outside, you'll find an Ecuadorian Corojo wrapper. Inside, the binder is Dominican, and the filler is Dominican. The La Flor Dominicana 25th Anniversary Churchill Cigars is a Full-bodied Churchill-shaped cigar with a length of 7.00 and a ring gauge of 52.
With over 25 years in the cigar business, Litto and Ines Gomez have a lot to celebrate. And in this beautiful tobacco roll of the La Flor Dominicana 25th Anniversary cigar, we can celebrate it along with them.

All those decades ago, the Gomez family wasn't even in the cigar game. They probably never could have imagined what fate would bring them. Litto had a jewelry store in Miami (Pekin's), and business was good enough, it seemed. But after a particularly frightful armed robbery, the writing was on the wall. He was going to look for a new line of work.

The Los Libertadores blend was launched in 1994, commencing a fresh chapter of life. However, with the departure of Gomez's partner, the name was no longer his. He needed to start over yet again. "La Flor Dominicana" bloomed in his mind. Little did he know this 1996 cigar brand would eventually become a sensation. Exactly 20 years after he toasted the first LFD foot, Cigar Aficionado would award him the incredibly prestigious Cigar of the Year award for the Andalusian Bull. This bold and spicy smoke paid homage to his original birthplace in Spain.

Can you imagine? He started from the bottom; now he's here. In the memorable magazine ads the company now creates, you can see him and Ines riding through a lush tobacco field on horseback, living the dream for real.

The La Flor Dominicana 25th Anniversary cigar makes us appreciate the good life. This level of success isn't handed out to cigar companies. It's earned, one season of growing, one shipment of cigars at a time. A reputation for excellence is built on sticks like these, so the company has every reason to be proud of its accomplishments.

The long-filler leaves for the La Flor Dominicana 25th Anniversary cigar came from Gomez farms in the Dominican Republic, near the national capital of Santiago. Acre after acre yields up green leaves to the sun, drinking in the rich energy and growing to a fullness of flavor and strength that LFD has become known for. They aren't a particularly subtle brand, and they make cigars for people who love to feel the potency of their smokes.

The blending team went abroad for the wrapper, sourcing an Ecuadorian Corojo that brings a classic peppery flavor into the mix. Things still wound up quite earthy, though. Reviewers note the core flavors of dark chocolate, leather, and espresso. This isn't a mild-mannered stick at all. This is one of those celebrations where you sit down, pour out a healthy amount of whiskey, and settle in to get blitzed.

Litto and Ines Gomez, here are to you and your teams. May the next 25 years be as fruitful as the first 25!

Please browse our selection of La Flor Dominicana 25th Anniversary cigars at your leisure.

• What are the flavors like?
o Dark chocolate, leather, espresso.

• What's the strength level?
o Full.

• Who is this cigar for?
o La Flor Dominicana 25th Anniversary cigars are for fans of earthy blends who want things nice and strong.

• Will I want to smoke it to the nub?
o It's delicious!

• What's a good pairing with it?
o Glenfarclas 25-year scotch is perfectly aged to match this stogie. If you're not in the mood, an iced mocha from a coffee shop would probably be a sweet treat that pairs quite well here.

• What's the best time/place to smoke this cigar?
o When it's been too long since you appreciated your tireless efforts to succeed.

• Any flaws/downsides?
o Take your time. Huffing an LFD like crazy is a sure way to get unenjoyable draws. Slow, steady, and mellow brings out the best in the flavor profile.
Customer Reviews
Write a Review
Ask a Question
Excellent cigar
This 25th anniversary cigar from LFD is one of my favorite sticks. It arrived well cared for and ready to enjoy.
Payment & Security
Your payment information is processed securely. We do not store credit card details nor have access to your credit card information.