Drew Estate Liga Undercrown Shady XX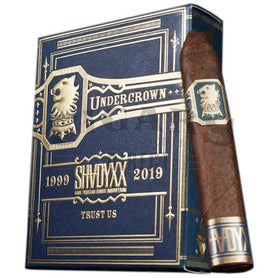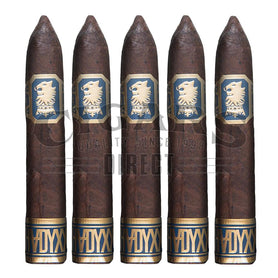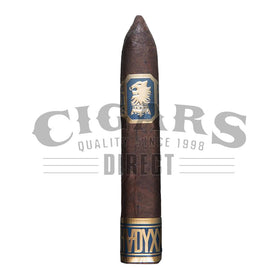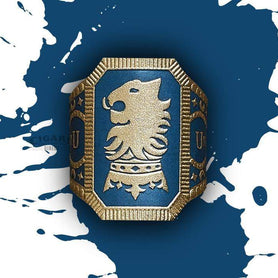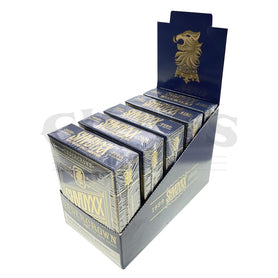 This Drew Estate Liga Undercrown Shady XX cigar is made in Nicaragua. Outside, you'll find an Otapan Negro Ultimo Corte wrapper. Inside, the binder is Connecticut Habano, and the filler is Brazil Mata Fina & Nicaraguan. This is a Box Pressed Torpedo cigar with a length of 5.00 and a ring gauge of 50. Extremely Limited!
In 1999, two unlikely men changed their industries forever. Twenty years later, the two teamed up to celebrate their anniversaries with a special cigar release: the Undercrown Shady XX.

Unknown white rapper Marshall Mathers from Detroit broke into worldwide fame with The Slim Shady LP, produced by Dr. Dre. Kids around the world were memorizing the lyrics of his songs and Eminem was suddenly one of the biggest stars of hip hop. He became so big, so quickly, that he was able to start his own record label with his long-time manager Paul Rosenberg.

Today, Eminem is the best-selling hip hop artist of all time and the 9th best-selling artist of any genre. His success defied what many thought about hip hop and contributed to the mainstream popularity of rap as a whole. After all, who would have ever thought that a rapper could outsell the Rolling Stones? And Shady records changed the industry just as much, largely thanks to Eminem's discovery of 50 Cent who was one of the first artists signed to the label.

While Eminem was recording with Dr. Dre, Jonathan Drew was cooking up some potent mixes of his own that would launch him to fame in his industry. But he wasn't spinning records, he was rolling cigars. Jonathan founded Drew Estate in 1996 (just a year before the release of the Slim Shady EP) but really got started with the release of the first ACID cigars in 1999.

ACID cigars were a true first in the cigar world: they were naturally flavored through an infusion process involving aging the finished cigars in rooms filled with secret blends of herbs, spices, and essential oils. The result was a subtle, complex flavored cigar the likes of which had never been seen. And as Eminem's success showed that hip hop could achieve mainstream recognition, ACID proved that flavored cigars could leave the realm of gas stations and gain respect in the premium cigar world.

As it turns out, Shady Records founder Paul Rosenberg is a huge cigar fan. And Jonathan Drew grew up on hip hop in the graffiti-covered streets of DUMBO the ACID line is full of hip hop imagery. So it was only natural that the two would collaborate on a cigar that would celebrate both of the companies' anniversaries. The first such cigar was the Shady XV, created on the 15th anniversary as a limited-release restricted to the Detroit area. But the 20th anniversary Shady XX is a nationwide release, and we're lucky that they took their collaboration to the national stage because this cigar is something special.

Hip hop might be a bigger part of the ACID line, but the Shady XX is a special edition of the Undercrown line. It's a handsomely box-pressed 5x50 Belicoso with a dark and oily San Andres Otapan Maduro wrapper and bold blue-and-gold head and foot bands that match the box design. The binder is a rare and toothy Connecticut Broadleaf Habano leaf which is similar to the one used to wrap the Liga Privada T52. Inside the binder is a blend of Brazilian Mata Fina and Cuban-seed Nicaraguan long-fillers.

The potent combination of San Andres wrapper and Broadleaf Habano binder delivers the goods on the palate, with powerful notes of earthy leather, coffee, and dark chocolate. The long-fillers aren't messing around either, and add enormous body and a significant amount of peppery spice to the smoke. Eminem and Jonathan Drew became famous because they stayed true to their vision and never worried about who might get offended. This potent stick is the perfect tribute to their success.
What are the flavors like?

Chocolate, earth, and leather

What's the strength level?
Who is this cigar for?
Will I want to smoke it to the nub?

The grind never really stops, so why should you?

What's a good pairing with it?

Old school Hennessy and whatever you like in it.

What's the best time/place to smoke this cigar?

After a late-night rap battle

Any flaws/downsides?

You might wind up pulling out those 20-year old Marshall Mathers albums and bumping them up and down the block.
Payment & Security
Your payment information is processed securely. We do not store credit card details nor have access to your credit card information.