Matt Booth's Face Golden Egg Robusto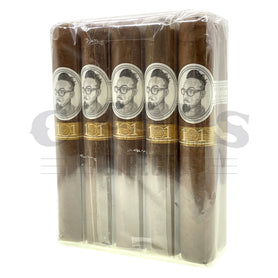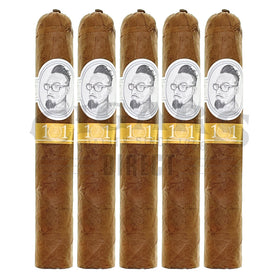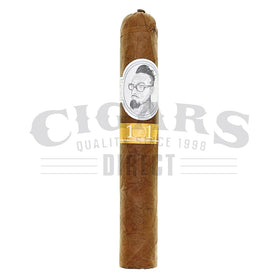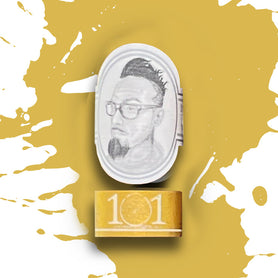 This Eastern Standard Golden Egg You Thought You Knew Robusto cigar is made in the Dominican Republic. Outside, you'll find a Manufacturer's Secret wrapper. Inside, the binder is Manufacturer's Secret, and the filler is Manufacturer's Secret. This is a Robusto cigar with a length of 5.00 and a ring gauge of 50.
Caldwell just loves playing around, and this is yet another little bit of fun from a team that is clearly young at heart.

Matt Booth is the founder of Room101 cigars, which created the highly rated Farce. He's also a collaborator with Robert Caldwell. Together, the two produced the well-received Hit and Run. After a few drinks, perhaps, Caldwell got the idea to sneak his buddy into his cigar bands.

Normally, Eastern Standard cigars feature a bearded man of unknown origin (lots of Caldwell cigars feature figures from Russian history, so perhaps it's there that detectives should search?). For about 5,000 of a particular production run, however, Caldwell replaced his famous Eastern Standard image with a drawing of Matt Booth to create this Golden Egg cigar. It carries the sub-name "You Thought You Knew," which definitely challenges some of our wordiest products for the official "Longest Named Cigar on Earth Award for Verbosity and General Disregard for Conciseness, Simplicity, and the Needs of People Who Run Retail Tobacco Shops on the Web."

Kudos.

The blend hasn't been changed, as far as we know – just the band – so this is still the Eastern Standard that managed to earn 92 points from Cigar Aficionado. The Dominican binder and filler lay in the perfect core for the Ecuadorian Connecticut wrapper to sit atop, creating a flavor profile that is quite enjoyable. Cigar Aficionado called out chocolate, rye bread, and nuts. (If it's been a while since your last sandwich on rye, hit up a reputable deli and find out why eastern Europe and other places refuse to give it up as the cornerstone of a good Reuben.)

This Eastern Standard Golden Egg You Thought You Knew is really just a fun special edition of the hit cigar that helped bring Caldwell into the group of cigar makers who can produce excellent smokes. What once was an "Easter egg" in Eastern Standard boxes are now available on its own. We kind of have to wonder if these are getting any secret blend tweaking now or in the future, though. It seems like so many cigar projects that start as a whimsy eventually take on a life of their own. Smoke one of these next to an Eastern Standard and see if you spot any differences.

Please browse our selection of Eastern Standard Matt Booth's Face Golden Egg You Thought You Knew cigars at your leisure.

- What are the flavors like? Chocolate, rye bread, nuts.

- What's the strength level? Medium-full.

- Who is this cigar for? Eastern Standard Golden Egg You Thought You Knew cigars are for fans of the hit blend who like fun little special editions.

- Will I want to smoke it to the nub? The Eastern Standard blend is delicious!

- What's a good pairing with it? Treat yourself to a Glenmorangie Nectar d'Or scotch, with a lighter flavor profile to match up with the earthiness of the Eastern Standard.

- What's the best time/place to smoke this cigar? When you need a little laugh.

- Any flaws/downsides? We can't fight the nagging idea that there's some difference in there that Caldwell didn't tell us about – an Easter egg in the Easter egg.
Payment & Security
Your payment information is processed securely. We do not store credit card details nor have access to your credit card information.