Baccarat Barber Pole Limited Edition Rothschild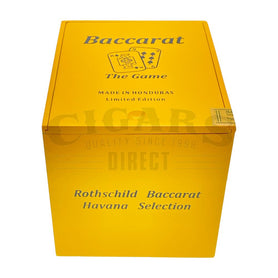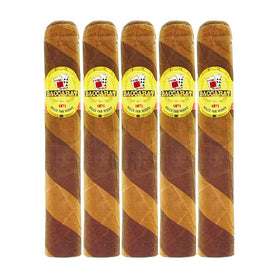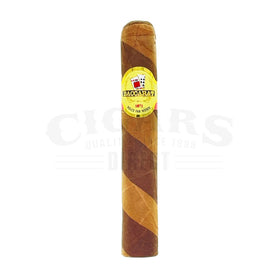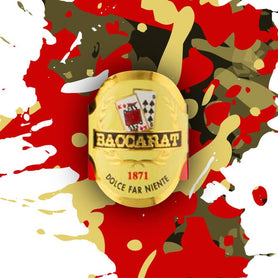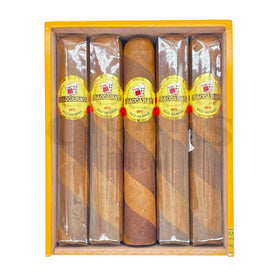 The James Bond experience at a "Jimmy" Bond price.

Baccarat Barber Pole Limited Edition cigars are mild, smooth, and creamy. It's quite an impressive feat considering the usual reputation of Honduran cigars for peppery, earthy flavor. But when you get the right blend going, you can do almost anything. That's the art of cigar making, right there.

Baccarat (say BAH-cah-rat) is the more affordable side of Davidoff's modern-day portfolio. Part of the Camacho acquisition, Baccarat cigars actually can trace their history all the way back to the legendary Upmann family in Cuba. But now it's primarily a different type of smoke than it once was. Still, legions of fans continue to enjoy them as they have for over a hundred years.

The Baccarat Barber Pole Limited Edition blend in particular is made with two wrapper leaves, both grown in Connecticut. The lighter one is a Connecticut shade, while the darker is a broadleaf maduro. Shade brings in a gentle coffee flavor, while the broadleaf adds a touch of heartier earth – but only a touch. The long-filler blend of aged Honduran tobacco is nestled in a Mexican binder, and somehow all these leaves with such strong personalities play nicely together.

It's a testament to leaf selection and cultivation that this stogie smokes up the way it does, offering notes of cocoa and leather, but also creamy almond and cafe con leche. This particular vitola is outside the company's normal production runs but is a fun pickup for fans of Baccarat flavor. At 5 x 50, it's a nearly perfect size and shape for your next smoke break. Not too long, not too short. Just right to indulge in the band's suggestion of enjoying "dolce far niente."

The sweetness of doing nothing.

Ah, we know it well.

Grab a five-pack and light one up the next time life affords you a chance to kick back and empty your mind.
This Baccarat Barber Pole Limited Edition Rothschild cigar is made in Honduras. Outside, you'll find both Connecticut Broadleaf and Connecticut Shade wrappers. Inside, the binder is Mexican, and the filler is Honduran. This is a Rothschild/Robusto-sized cigar with a length of 5.00 and a ring gauge of 50.
Please enjoy our selection of Baccarat Barber Pole Limited Edition cigars at your leisure.

• What are the flavors like?
o Cocoa, leather, creamy almond, cafe con leche

• What's the strength level?
o Mild-medium

• Who is this cigar for?
o Baccarat Barber Pole Limited Edition cigars are for fans of a smooth but flavorful profile.

• Will I want to smoke it to the nub?
o It is decidedly so.

• What's a good pairing with it?
o Sweet coffee

• What's the best time/place to smoke this cigar?
o Wake up with one on a nice sunny day

• Any flaws/downsides?
o Limited supply
Payment & Security
Your payment information is processed securely. We do not store credit card details nor have access to your credit card information.