Arturo Fuente Forbidden X Double Robusto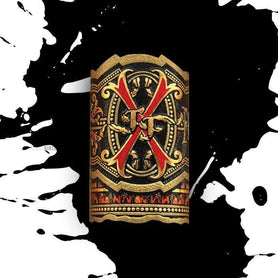 This Arturo Fuente Forbidden X Double Robusto cigar is made in the Dominican Republic. Outside, you'll find a Hand Selected Dominican Republic wrapper. Inside, the binder is Dominican, and the filler is Dominican. This is a Double Robusto cigar with a length of 5.50 and a ring gauge of 52.
For the most loyal torcedores (cigar rollers) at Chateau de la Fuente, there is the Forbidden Room; the place where Forbidden X cigars are made.

For the rest, simply making some of the best cigars on Earth will have to be enough.

It´s unclear who else is allowed into the Forbidden Room along with the trusted torcedores. Certainly Carlos Fuente, Jr. (aka "Carlito"), but are there others? Perhaps. We can only guess.

In the Forbidden Room, rollers are given a secret blend of 7 distinctive tobaccos. These are Fuente´s hand-selected primings from various spots in his plantations where the most flavorful leaves are growing. After adding a binder and finishing the cigar off with flawless wrapping, it´s time for the aging process. Racks and carts? No, not for Arturo Fuente Forbidden X. This one is aged in Calvados oak casks that are French apple brandy. We have to say, the results are reminiscent of forbidden pleasure, sensual and inviting.

The aroma of the unlit cigar is sweet, spicy, deep, and seductive. The lit Forbidden X brings the flavor in each draw. The smoke is full of rich oaky, spicy tones and has a fruity finish that hints at what some of the leaves in the secret blend might be.

As you look through the vitolas " the shapes and sizes" be sure to check out the BBMF. It´s a big bad mother "effer" with a bulbous end that demands to be lit and a twisted cap that says, "Let´s dance!"

Forbidden X is a mystery we just can´t ignore.
Payment & Security
Your payment information is processed securely. We do not store credit card details nor have access to your credit card information.