Alec Bradley Black Market Filthy Hooligan Shamrock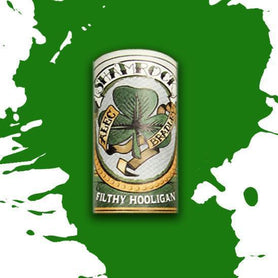 This Alec Bradley Filthy Hooligan Shamrock cigar is made in Honduras. Outside, you'll find a Candela wrapper. Inside, the binder is Sumatra, and the filler is Honduran & Panamanian. The Alec Bradley Filthy Hooligan Shamrock is a medium-strength Toro-shaped cigar with a length of 6.00 and a ring gauge of 50. This seasonal cigar is ultra-limited as only 1500 boxes were produced.

Is there such a thing as being "too Irish?" Not on Saint Patrick's Day, baby!

Some guys are definitely going to get roped into trying one of these when they're a dozen beers deep on Saint Paddy's, and they're going to wonder what the hell cigars are all about. But from this crazy introduction, who knows what will come? We just hope people realize that a three-leaf barber pole-wrapped cigar isn't the norm around here.

Okay, so the 2022 installment of the Alec Bradley Black Market Filthy Hooligan is called the Shamrock. Just like its namesake, it has three outer leaves. Maybe next year's special edition will have the fabled four? No one is that crazy, right?

Never mind. We know someone will do it, eventually.

The long-filler blend is one that fans of this wild romp through the rolling green hills will recognize: Honduran and Panamanian tobacco, packing a one-two punch that's just the beginning of the fisticuffs to come. Around that is an Ecuadorian Sumatra binder, and then we get the full colors of the rainbow leading us to a pot of smoky gold. There's green Honduran candela, blonde Nicaraguan habano seco, and dark brown Nicaraguan habano maduro.

If your elementary schooler were coloring you a cigar, the Alec Bradley Black Market Filthy Hooligan Shamrock is what they might make.

The flavors – what can we say here? There's a LOT of tobacco packed into this pint of a stogie. There's the green grass of the Emerald Isle, the earthy chocolate flavors of a good stout, and the creamy golden toastiness of fresh country bread with butter. Sound like a load of bull from a dairy farm in Munster? Well, we'd sober up and try to be a bit more restrained, but the tin whistle is piping, the bodhrán is banging, and the fiddle is carving up the air with a hearty folk tune.

Erin go Bragh, lads!

Please browse our selection of Alec Bradley Black Market Filthy Hooligan Shamrock cigars at your leisure.

- What are the flavors like? Green and grassy, earthy, chocolatey, bready.
- What's the strength level? Medium.
- Who is this cigar for? Alec Bradley Black Market Filthy Hooligan Shamrock cigars are for anyone in need of Irishing up.
- Will I want to smoke it to the nub? You'll lose track of it when you set it down to go pint for a pint with the guy next to you.
- What's a good pairing with it? Many beers. Many whiskies. Good company.
- What's the best time/place to smoke this cigar? This is a Saint Patrick's Day smoke. Perhaps THE Saint Patrick's Day smoke.
- Any flaws/downsides? Increases the chances you'll be yakking.
Payment & Security
Your payment information is processed securely. We do not store credit card details nor have access to your credit card information.