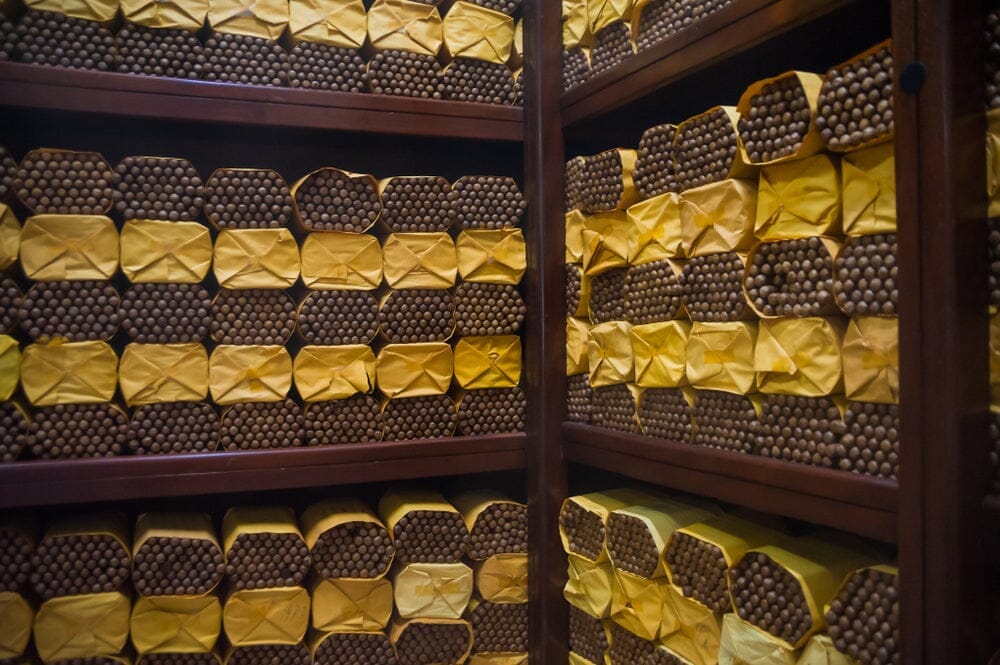 The Best A.J. Fernandez Collaboration Cigars
Top Blends from One of the World's Most Sought-After Tobacco Men
Abdel J. Fernandez is now a master of Nicaraguan tobacco and blends, but he was born in one of the beating hearts of cigardom: Cuba. In the San Luís part of Pinar del Río, he and his family worked growing tobacco with the government. Even as a teenager, he was involved in the family business. He soaked up leaf knowledge like a stalk does the rain.
But his destiny lay elsewhere.
In 2003, he landed in Nicaragua and worked at first as a roller. He grew from there, eventually stretching into farming, cigar making, blending, and more.
In addition to his brands like San Lotano, New World, Last Call, Diesel, Ramon Allones, and Enclave, A.J. Fernandez works with many other companies and partners to produce great cigars. It could work as a blender. It could be working as a supplier. Or it could be something else. One thing is clear: if you need a hand with a cigar, you'd love to have A.J. on the team. The man is one of the most sought-after collaborators on Earth, and the best A.J. Fernandez cigars on this list are some of the primary reasons why.
We also have to imagine he's a great guy to be around. Why else would so many people be knocking down his door?
Without further ado, here are some of the A.J. Fernandez collaboration cigars that are gracing humidors around the world:
This one is right up A.J.'s alley. It's a classic brand – one of the oldest – with a Cuban and non-Cuban version. It's a perfect blend for a Cuban tobacco master to handle to ensure the company's reputation for traditional excellence is adequately respected.
This one brings a very enjoyable curve ball into the mix. Along with high-quality Nicaraguan long-fillers, you get a zesty Brazilian mata fina wrapper that adds flavor to the smoke. It's a spicy cigar with flavors of bold espresso, cedar, and a hint of sweetness on the finish. Even at medium-full strength, this one makes itself felt.
And we can't fail to mention this cigar is gorgeous. The rollers did a fantastic job ensuring this stogie was beautiful and delicious. A.J. gets everything right.
This is a "trillaboration" between Robert Caldwell, Matt Booth, and A.J. Fernandez. It's a more sophisticated blending side, as the Nicaraguan tobacco and fermented maduro wrapper combine to produce a complex profile. You'll get the earthy, chocolatey flavors you'd expect, but an almond/anise thing will make you think of premium extracts that go into high-end desserts.
It scored 91 points with Cigar Aficionado and has become one of Caldwell's standout blends. Naturally, A.J. was there to see that it was done right, making it another one of the best A.J. Fernandez cigars around.
Romeo y Julieta Montague (85, Cigar Dojo)
85 points? How is this the "best?" Well, we'll get to that. Legendary brands come to A.J. because they know they can trust him to balance his wealth of traditional Cuban expertise with the need to craft blends that satisfy modern smokers. Along those lines, this one combines Nicaraguan and Dominican tobacco with a Connecticut broadleaf Maduro wrapper for a severe effect.
Unlike many other A.J. Fernandez cigars, this one seems priced to move. It's a valued blend, showing that he knows how to blend a cigar for anyone to enjoy in humble circumstances. Even aficionados need an everyman cigar occasionally, and the rest of us are happy to have anything decent to smoke.
This one fits the bill of delivering rich flavor while keeping the bill small. THAT makes this cigar worthy of this list.
A.J. is anything BUT one-dimensional. This dude can blend for anyone.
Using whiskey barrels is cheating. Using aged tobacco is cheating. Combining the two is cheating. It's a good thing there are no referees in this game called "cigars!"
A.J. had his tobacco rest in bourbon barrels as part of the aging process, which took the smoke's whole flavor to a new level. It didn't make them taste like alcohol but brought out those charred, oaky notes that can be so nice to encounter when sipping on a glass of that amber/golden liquor.
Nicaraguan tobacco from Jalapa, Condega, and Ometepe was brought in for the filler blend. 5-8 years of aging was the minimum to get into the club. Then, there's a bourbon barrel-aged San Andres binder and the five-year-aged Ecuadoran habano leaf.
Cigar Aficionado loved it. Other reviewers loved it. And it got a rebirth in the Whiskey Row Sherry Cask. If you'll excuse us, we'll have to toast up a blend that will become another of the best A.J. Fernandez cigars around.
Montecristo is iconic, so it seems silly to think that a modern blend could matter to them. But it does. It really does.
This one scored 93 points with Cigar Aficionado, who said: "The balance of this cigar is undeniable, medium to full in body, resonating with the fine qualities of chocolate-covered espresso beans, rich woods, and dried fruit."
Aren't you in on that alone? We start salivating when we hear reviews like that.
This is a Nicaraguan puro from a man known for his high-quality Nicaraguan tobacco and blends. It's one of those home runs where the batter didn't even look like they really swung that hard, but the ball easily sails over the wall with room to spare.
Southern Draw found a perfect partner in A.J., and many of their blends are made at his factory with his tobacco (we think). For all we know, he could also occasionally be a part of the blending team. Wouldn't you want his input if you already had him signed on to produce your cigars?
We're tagging this one as a blend to try, even if it's not one that A.J. has "top billing" on. Kudzu is a fantastic cigar that helped Southern Draw really break into the market and start making a reputation for itself. Nicaraguan filler with an Ecuadorian wrapper makes for a stogie that is woody, toasty, and that shows why it's worthwhile to wait for a little medio tiempo leaf to sprout at the top of those lush tobacco stalks.
Good stuff.
Cigar Aficionado's 2019 #1 Cigar of the Year was made with tobacco grown on the farms of none other than one Abdel J. Fernandez. It was also made in his factory! Rafael Nodal earned much-deserved accolades from this one – it was his blend, after all – but let's make sure to give A.J. his due. He was a diving force behind one of the finest cigars in recent memory, from seed to smoke, and he should get to bask in the limelight.
For those who have already forgotten the taste of the Quattro Nicaragua, Cigar Aficionado gushed that "every puff is an overture of flavors that's at times heavy and rich with notes of dark chocolate and wood, and other times, subtle and understated with hints of fine caramel and toasted almonds." If you still have one of these in your humidor, it's time to pull it out and see what time has done to this Nicaraguan masterpiece. It could be even better!
Hoyo de Monterrey La Amistad (90 points)
The Amistad is Cubanesque at its best. It's a traditional smoke with flavors of chocolate, nuts, leather, and just the right amount of spice. A.J. pulled from farms around Nicaragua to put this one together and found just the right mix to create something unique.
With all the smokes on this best A.J. Fernandez collaboration cigars list, you have to wonder how he always has something MORE up his sleeve to make the next blend? Doesn't he use his best stuff and then get stuck? Well, the answer is, "obviously not." He knows what to do with each leaf that comes in from the field, and he knows how to ensure that each combination is reaching its highest potential.
One of the marks of a master is the ability to do great things, even with humble ingredients. We're unsure which great cigars on this list used humble ingredients, but we're almost certain they're in there somewhere.
What, you didn't know he could do it with Cameroon leaf, too? Of course, he can! There's no leaf A.J. can't find a place for in his blends.
Cameroon can be a bit of an acquired taste, but it has been a part of fantastic blends, including Arturo Fuente's #1 Cigar of the Year winner, the Don Carlos Eye of the Shark. In this Don Lino cigar, A.J. smuggled it in as the binder, letting it serve as a consistent note throughout the entire cigar. To this, he added Nicaraguan and Dominican long-filler and a tidy Ecuador habano wrapper.
The original was inspired by the majestic beauty of an African safari. The reblend is inspired by a lifetime of making great cigars. Once you've got A.J. signed on, you know it's going to be a tasty smoke.
Padilla 88 Anniversario (92 points)
This is one last blend for this list where A.J.'s farms and factories were relied upon to ensure that an artful blend came together correctly. Nicaraguan inside, Ecuador Habano outside, and a touch of pelo d'oro (a favorite of José "Don Pepin" Garcia of My Father cigars) made this one special. Notes of "butterscotch, earth, and caramel, with a honeyed finish," tasted by Cigar Aficionado's judges, turned this one into a blend that breathed new life into Padilla cigars.
It also shows how long A.J. has been able to enjoy success. Whenever you want to chart his first milestone, A.J. has consistently gained ground on everyone for years. And we're not sure if he's peaking ever! In this game, great cigar men tend to be like fine wine – there's no limit on how good they can get with age. If A.J. is putting out this many great blends now, what will we see from him in the future? The best may be yet to come…
Until then, keep on enjoying the best A.J. Fernandez cigars right here at Cigars Direct!