Warped The Devil's Hands Corona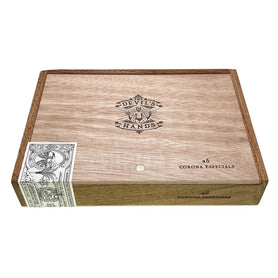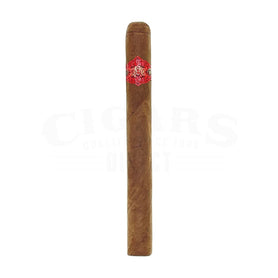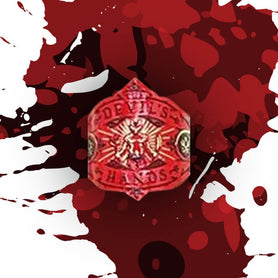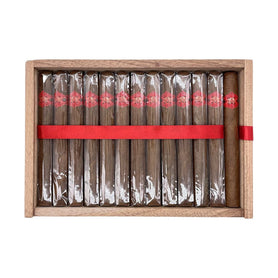 Warped has already built a fantastic reputation thanks to hits like the 95-point Serie Gran Reserva 1988, Cloud Hopper, and Guardian of the Farm (to name some standouts). But Warped founder Kyle Gellis is never one to rest on his laurels, obviously. And so we have a new high impact blend built to conjure a little taste of the flames of Hell…

In a good way.

Warped The Devil's Hands cigars are, in Gellis's words "The brand I've been wanting to create for many years." These tobacco guys are always harboring another special blend in their hearts as they puff through all the leaf that comes their way. They wait to taste the right notes and it all finally starts coming together. To get more specific, The Devil's Hands is all about Estelí, and the rich flavor you can get from the soil there.

Outside, this diabolical firecracker features an oily and beguiling corojo 99 wrapper grown in Jalapa. Peel back a layer and travel to the next circle of the Infernal Realm and you'll get a binder of criollo 98. Then comes the brimstone core: criollo 98 and corojo 99.

As you might expect, this one has a pitchfork poke of spice – mainly cinnamon to go with the classic pepper. There's also some winged imps of oak, earth, and roasted nuts to ease the pain of ceaseless torment. Of course, in reality, this one is all pleasure. It's a flavorful, unapologetic smoke that is just the right size for a good session in the 6 x 44 corona format.

The cigar wasn't made by the Devil herself, but the skilled artisans at Aganorsa. A few of us may be caught in the Evil One's snares, but for now, we're still free to smoke, drink, and be merry. And with this blend, that's just what we'll do.
This Warped The Devil's Hands Corona cigar is made in Nicaragua. Outside, you'll find a Corojo 99 wrapper from Jalapa. Inside, the binder is Criollo 98 and the filler consists of 50% Criollo 98 and Corojo 99. The Warped The Devil's Hands Corona is a Medium-Full Bodied Corona shaped cigar with a length of 6.00 and a ring gauge of 44.
Please browse our selection of Warped The Devil's Hands cigars at your leisure.

• What are the flavors like?
o Cinnamon, pepper, oak, earth, and roasted nuts

• What's the strength level?
o Medium-full

• Who is this cigar for?
o Folks who love that Estelí taste

• Will I want to smoke it to the nub?
o If you're headed to the Bad Place, you might as well savor the journey.

• What's a good pairing with it?
o Want to go all in? Grab a bottle of The Devil in Pink Silky Pyjamas scotch and drown away the evening

• What's the best time/place to smoke this cigar?
o Late-night sessions

• Any flaws/downsides?
o This could be a lot to handle.
Payment & Security
Your payment information is processed securely. We do not store credit card details nor have access to your credit card information.