Irish Car Bomb Firecracker Short Robusto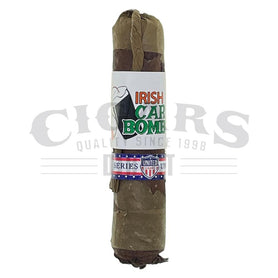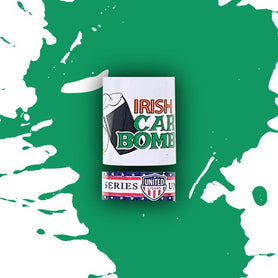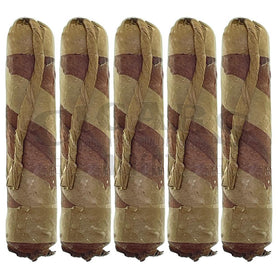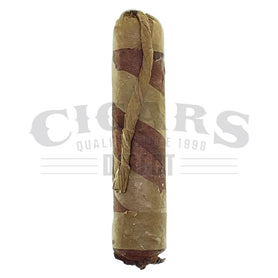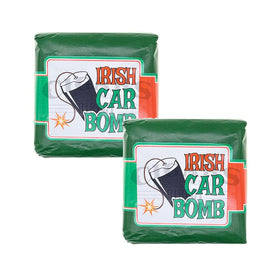 This Irish Car Bomb Firecracker Petit Robusto cigar is made in the Dominican Republic. Outside, you'll find a Dominican Candela and Mexican San Andres wrapper. Inside, the binder is Nicaraguan Criollo, and the filler is Dominican, Nicaraguan, and Pennsylvania. This is a Petit Robusto Shaped Cigar with a length of 3.50 and a ring gauge of 52.
The controversial United Cigars Irish Car Bomb Firecracker cigar is here to light up your conversations on Saint Patrick's Day!

For those of us in the States, an Irish car bomb has always been a bit of barroom gallows humor and a way to get drunk super fast. But over in Ireland, this isn't a drink you should EVER order. It's a reference to the bombings that were common during the time of the Troubles. It was a bloody, multi-decade conflict between Northern Irish who wished to remain part of the UK and nationalists who wanted to create a fully unified Ireland.

Irish folks have likened ordering a car bomb to ordering something like a "Twin Towers" in a bar in America.

But humor is a strange thing, and so for those of you with a twisted sense of humor, we present the United Cigars Irish Car Bomb Firecracker cigar.

To be fair, it's a hell of a blend in a very interesting package. It's a compact 3 x 50 Petit Robusto – perfect for short sessions. Really, it's a nub cigar, so think of it in that category.

You'll notice the shape right off the bat. This thing is raggedy and papery, just like a firecracker. It has a shaggy foot, which means the wrapper leaf doesn't go all the way to the end of the cigar. Instead, you can toast up the Dominican, Nicaraguan, and Pennsylvanian filler tobacco to enjoy it alone first. It's a great way to learn more about how blending works and what a wrapper really adds to a stogie.

At the head of the United Cigars Irish Car Bomb Firecracker cigar, it's a different story. This thing has a wick! But you don't light it. You light the other end at the foot. The twisted wick you clip off when you make your cut to get ready for smoking. There are no explosions, but there'll be plenty of smoke thanks to a dynamite combo of wrapper leaves.

This is a barber pole-style wrapper with green Dominican candela swirling around dark Mexican San Andrés Maduro tobacco. The rollers down at the Magia Cubana Factory in Gurabo, Dominican Republic definitely had their hands full when the order came down for this one. And the resulting flavor is quite complex. The Irish Car Bomb is all over the place, with a core of rich, creamy coffee and cocoa. With that, you'll taste cocoa, dried apricot, nutmeg, and more.

Buckle up, this one will send you sky-high.
- What are the flavors like? Rich and creamy coffee, cocoa, dried apricot, nutmeg.
- What's the strength level? Medium.
- Who is this cigar for? United Cigars Irish Car Bomb Firecracker cigars are for people who want a crazy blend for a crazy time (like Saint Patrick's Day in the U.S.).
- Will I want to smoke it to the nub? This probably won't be the best blend you smoke this year, but it might be the most interesting.
- What's a good pairing with it? Guinness or whiskey. What'll it be?
- What's the best time/place to smoke this cigar? Saint Patrick's Day
- Any flaws/downsides? This is going to piss somebody off. Keep this one stateside and you'll probably be fine.
Customer Reviews
Write a Review
Ask a Question
Payment & Security
Your payment information is processed securely. We do not store credit card details nor have access to your credit card information.