Trinidad Espiritu Series No.2 Toro Sampler of 5 + Lighter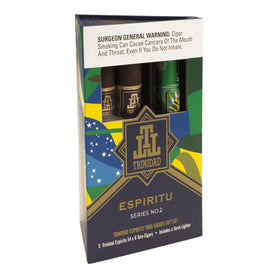 The popular Trinidad Espiritu Series 2 adds an exciting ltd edition gift set to the brand, featuring a 5-cigar + lighter package. Packaged in a colorful and unique presentation, each gift set comes with five toros and one Vertigo custom designed lighter. Perfect to sell for all year gifting opportunities and to increase trial and success of the Espiritu brand..
Payment & Security
Your payment information is processed securely. We do not store credit card details nor have access to your credit card information.