The Padron Collection Natural Sampler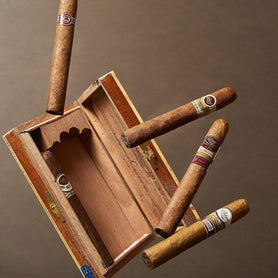 In the Padrón Collection Natural Sampler, you get to experience premium cigars made by one of the best cigar families in the business. Padrón cigars are known for their unmistakable signature flavors, and you'll find a number of those here.

The Padrón Collection Natural Sampler contains one of each of the following cigars.

Padrón Dámaso

First up in the Padrón Collection Natural Sampler is the Dámaso. Starting with the name alone, this line is special. That's because one can trace Padrón cigars all the way back to a young Dámaso Padrón working the tobacco fields of Cuba in the mid-1800s. The other thing that's special about this blend is that it's a mild to medium cigar, which is a bit more restrained than the average Padrón.

Dámaso cigars are stuffed with a scrumptious blend of Nicaraguan long-fillers and wrapped in an Ecuadorian Connecticut leaf. Once you light this butterscotch brown stick up, your palate turns on to flavors of cream, cocoa, cedar, and a touch of spice.

If you're tired from the daily grind and looking to mellow out for a spell, this is the one for you.

Padrón Thousand Series

Coming at you next, directly from the OG Padrón blend, is the Thousand Series. To construct this stogie, the experts over at Padrón take pure Nicaraguan tobacco aged for 2.5 years and wrap it up in a veiny Nicaraguan sun-grown leaf. The result is a relaxing medium-to-full-bodied smoke with a delicious aroma and vanilla, pepper, earth, and cedar flavors. The Thousand Series delivers an even burn and easy draw for a truly excellent smoking experience.

Padrón 1964 Anniversary

Let's party like it's 1964! The 97-rated 1964 Anniversary line was launched in 1994 to commemorate 30 fine years of Padrón cigars. These box-pressed beauties wear bands imprinted with serial numbers unique to each cigar. This is necessary to protect consumers from shady counterfeiters since Padrón releases the 1964 in such limited runs. The core is four year aged Nicaraguan tobaccos. Then this complex and smooth blend is wrapped snug in a sun-grown leaf. Introduce the 1964 to your lighter and cedar, earth, cream, cocoa, and more all turn out for the party.

Padrón 1926 Anniversary

It's always fun to celebrate a friend's birthday, even those friends we've never met—like Jóse Padrón. This isn't weird. Think of all the musicians, athletes, writers, and even cigar makers you've never met but have contributed significantly to your life's satisfaction.

First released in 2001, the 1926 Anniversary Series commemorated Jóse Padrón's 75th birthday. This line is limited to 100,000 cigars per year. Like 1964, the 1926 Anniversary band displays a unique serial number to ensure you're smoking the real deal. A sun-grown wrapper covers five-year-aged tobaccos, and this Nicaraguan puro is ready to clock in. Here is a well-balanced, complex cigar that produces a smooth smoke full of espresso, chocolate, and nutty flavor notes.

Jóse Padrón gave so much to the cigar world, and we happily celebrate the man with the 1926 Anniversary blend available in the Padrón Collection Natural Sampler.

Padrón Family Reserve No. 45

Closing out the Padrón Collection Natural Sampler is the Family Reserve No. 45.

At one time—as the name suggests—the Family Reserve was exclusive to the Padrón family. Lucky for us, they ultimately decided to share this 95-rated blend. They even pulled that dope Padrón move of imprinting the cigar band with a serial number to keep phonies out of your humidor.

The Padron Family Reserve No.45 marks 45 years of Padrón cigars. The cigar starts with Nicaraguan tobaccos that aged for ten years. This family blend then tucks into a natural Nicaraguan leaf so dark it could pass for a Maduro. The cherry red double band stands out against the dark leaf and lends an air of sophistication to the cigar. This full-bodied stick is chock-full of sweet and spicy. By no means is it a beginner cigar. Did you expect anything less from a blend that used to be for Padrón family members only?

Please enjoy the Padrón Collection Natural Sampler at your leisure.

Payment & Security
Your payment information is processed securely. We do not store credit card details nor have access to your credit card information.