Tatuaje Skinny Monsters Cazadores Edition Sampler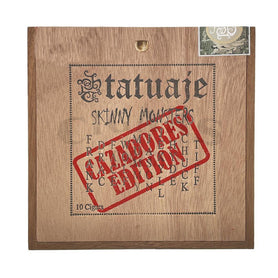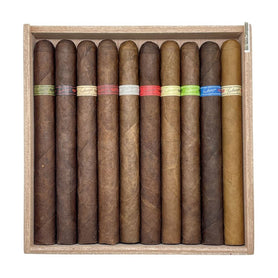 Tatuaje fans love the Halloween season. That's when they wait in spooky anticipation for the next release from the highly limited Tatuaje Skinny Monsters line. In fact, the release is so limited there are only 666 boxes produced, and these are released to a mere 13 retailers. To say that these scary cigars sell out quickly is an understatement. Our Tatuaje Skinny Monsters Cazadores Edition Sampler will line your humidor with 10 at once. That is, of course, if you dare.

It's no secret that some traditional cigar enthusiasts have no interest in a cool horror-themed line like this one, and that's too bad because they're writing off high-quality premiums here. Tatuaje cultivates the Skinny Monsters line using traditional practices, as they do with all of their sticks. Each cigar in this collection of fright uses 100% Nicaraguan tobaccos, though the wrappers do vary, giving each smoke its own freaky temperament.

This quality sampler contains one of each of the following cigars.

Tatuaje Wolf

If you're the adventurous type, fire up the Wolf on a full moon. Full moon or not, this storied monster will have you howling. At the heart of this beast is a Nicaraguan filler blend and binder. An Ecuador Sumatra wrapper covers these up, and the Wolf is ready for his walk. He'll reward you with a delicious smoke laced with Halloween sweetness along with flavors of nuts, leather, and spice. Make sure not to keep the Wolf in your humidor too long, or you may start noticing some serious claw markings.

Tatuaje Mummy

The Mummy is one cigar that's waited for you for what seems like ages. Time does not fly when you're locked in a tomb. Or maybe it does—how would we know? We've had the good fortune of never being sealed up in one. Nonetheless, the wait is over as the Mummy is now available in our Tatuaje Skinny Monsters Cazadores Edition Sampler.

There is a treasure trove of Nicaraguan binder & fillers deep within this stick. Wrapping it all together is an oiled-out sun-grown Criollo wrapper. Once lit, the Mummy reveals a straight and even burn and produces a smooth medium-bodied smoke that delivers flavors like cinnamon, cedar, pepper, and leather.

Tatuaje Tiff

Next up, it's ladies' night in the Tatuaje Skinny Monsters Cazadores Edition Sampler with the Tiff. Her blonde Ecuadorian Connecticut shade wrapper draws you in first. Then her heart of pure Nicaraguan tobacco gets its hooks in you, and there's no choice but to spark up a conversation.

The Tiff maybe medium strength, but that doesn't mean she'll pass up the chance to smack your pallet with a rich and creamy smoke. Can you blame her? You started this mess by lighting her head on fire. But what's done is done. Lean back and enjoy the ride of cinnamon, earth, and nutty flavors.

Tatuaje Chuck

Oh, boy—better play it cool—the Chuck just walked through the door. He may seem innocent, but we assure you he is not. This guy is dressed in a near pitch-black Ecuadorian Habano Oscuro leaf that hides his secret stash of Nicaraguan binder and filler tobaccos.

If you want a taste, you'll need to get close enough to torch his head. Once this happens, he'll loosen up and share his take of espresso, spice, dark chocolate, cedar, and citrus. But there is one thing you must keep in mind—Chuck is a survivor, and you'll pay the price if you don't get a good meal in first. Once you're full, the playing field evens out.

Tatuaje Jason

Next up is America's favorite disgruntled camper, the Tatuaje Jason. We get it—camp isn't a great fit for everyone. Perhaps your humidor is a more suitable cabin for "the Jason" He holds a complex blend of high-quality Nicaraguan tobacco close and ties it up in a dark Connecticut broadleaf Maduro wrapper. The only way to free these hostages is to smoke 'em out.

Once burning, you'll get a taste of what Pete Johnson considers one of his strongest blends. As with many of these Skinny Monsters, have a full meal before dancing with "the Jason".

Tatuaje Jekyll

The doctor of good and evil is in, and he's taking on new victims, er, patients. Could it be that the Jekyll is concealing his dark side beneath that oily Ecuadorian Sancti Spíritus wrapper? Turns out, no. All we found was a gorgeous blend of Nicaraguan binder and filler tobaccos. However, Hyde may be in there somewhere. To be honest, we were too busy enjoying this medium-full-bodied creamy smoke to know for sure. What we do know is the Jekyll delights his audience with flavors of cocoa, white pepper, cayenne, and more.

Tatuaje Hyde

There are two sides to every coin, and here we have the dark side of Jekyll, the Hyde. This guy wears a green band a few shades darker than his counterpart to illustrate his newfound ability to transform between good and evil after slurping down his green potion. "The Hyde" wears an exotic Ecuadorian Sumatra wrapper. This leaf conceals aged Nicaraguan fillers. All it takes is a lighter, and this slow-burner will treat you to cream, chocolate, cinnamon, and cedar.

Tatuaje Face

Next up in the Tatuaje Skinny Monsters Cazadores Edition Sampler is the frightful Tatuaje Face, but don't worry—the closest thing to a power tool in this equation is your torch and the Face's razor-sharp burn. This slim yet sturdy fella is dressed in a sweet and seductive San Andres Maduro leaf. But don't let this wrapper distract you too much. After all, we are dealing with a monster here. Light up "the Face", and his stash of pure Nicaraguan tobacco reveals secrets of pepper, sweetness, earth, and mocha. This one is for the serial flavor lovers out there. Don't miss it!

Tatuaje Drac

So you want to be immortal, do you? Well, we can't help you there, but we can tell you all about the Drac. At the core of this stick is a spooky blend of Nicaraguan binder and long filler tobaccos. The cape covering these is a dark Ecuadorian Habano that is sure to spice things up as well as make them sweet. The Drac will treat you to a gothic adventure of chocolate, spice, grass, and pepper. Get your teeth into the Drac before he gets his into you. Otherwise, you could turn into a cigar.

Tatuaje Frank

We all know Frank is a slow walker, and that's why he's last. While you didn't create this creature, he's sure to do your bidding once you show him your flame. "The Frank" wears a Connecticut broadleaf suit. His pockets are stuffed with an aged blend of Nicaraguan long-fillers and binder. Get this slow-burning medium-full strength cigar moaning, and dark chocolate, cedar, coffee, earth, and red pepper notes all come out to play.

Please enjoy the Tatuaje Skinny Monsters Cazadores Edition Sampler at your leisure.

Payment & Security
Your payment information is processed securely. We do not store credit card details nor have access to your credit card information.