Tatuaje Skinny Monsters 6 Pack Sampler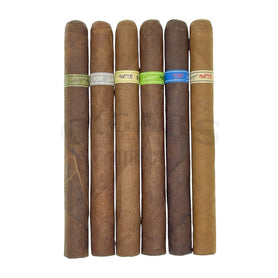 Every year around Halloween, Tatuaje fans wait in spooky anticipation for the next release from the limited-edition Tatuaje Skinny Monsters line. With only 666 boxes of the latest monster produced, these highly sought-after tall and skinny Lanceros go quick.

Let's face it, though—the traditional cigar world often shakes its head at anything out of the norm, such as the fun horror-themed line featured in our Tatuaje Skinny Monsters Lancero Sampler. This is too bad when it comes to Nicaraguan puros as quality as these. Just because a cigar is cultivated through traditional means doesn't mean it can't have an amusing, modern theme.

While all these devils utilize a 100% Nicaraguan blend, the wrappers vary, giving each beast its own personality. That said, let's dig into this scrumptious horror show of 7.50 x 38 cigars. That is if you have the cojones.

This quality sampler contains one of each of the following cigars.

Tatuaje Frank

Moaning right out of the box in the Tatuaje Skinny Monsters Lancero Sampler is the Frank. But don't worry, he'll do your bidding, even after you torch his head. Frank's suit is a Connecticut broadleaf wrapper that holds an aged blend of Nicaraguan long-fillers and binder. Flavors of cedar, red pepper, coffee, earth, and dark chocolate all come to life once the lightning of your lighter brings him to life. But watch out—this slow-burning medium-full strength creature isn't afraid to heartily slug your palate all the way down as revenge for his stitched together existence.

Tatuaje Mummy

He says you're a little late, but better late than never, right? This cigar has waited for you to bring it back to life for what seems like thousands of years. Before they sealed him up in the tomb, they wrapped the Mummy tight in an oily sun-grown Criollo wrapper. This stiff stick is medium-bodied and smooth. Once you raise him from the dead, he'll reward you with his treasure trove of cedar, leather, cinnamon, and pepper. The burn is straight and even and produces plenty of delicious smoke.

Tatuaje Jekyll

"The doctor will burn for you now."

Perhaps the Jekyll is trying to cover up his dark side with his tan, veiny, oiled-out Ecuadorian Sancti Spíritus wrapper, but you know Hyde can't be contained for long. Nonetheless, that murderous guy isn't here yet, so rest easy. Once you get the Jekyll burning, the leaf and aged Nicaraguan tobaccos work together to deliver a frightful medium-to-full-bodied creamy smoke with flavors of white pepper, cayenne, and cocoa.

Tatuaje Hyde

Next, in the Tatuaje Skinny Monsters Lancero Sampler, Jekyll has decided to show his sketchy side, the Tatuaje Hyde. The band is a darker shade of green than the Jekyll to illustrate his creepy ability to transform into Hyde after drinking his potion. Deep inside this cigar, aged Nicaraguan fillers lie in wait, much like the evil side of the Jekyll/Hyde personality. Wrapping everything up is an exotic Ecuadorian Sumatra wrapper. The burn is slow and even with cinnamon, cream, cedar, and chocolate flavor notes.

Tatuaje Chuck

Next up and ready to play is the Tatuaje Chuck. He's assured us it's all fun and games, though that knife behind his back says otherwise. we're sure it's fine. Just light his ass on fire and show him who's in charge. Chuck wears a dark as-midnight Ecuadorian Habano Oscuro leaf to cover his Nicaraguan filler tobaccos and binder stash. Get this stick burning, and you're in for dark chocolate, spice, espresso, citrus, and cedar. Just remember—Chuck always puts up a fight. Make sure to get a nice meal in before trying any hero business.

Tatuaje Tiff

Wait, what? Someone actually married that murderous little dude? Oh, wait, we see the ax now. There really is someone for everyone. Tiff uses her Ecuadorian Connecticut shade wrapper to conceal a medium-strength blend of Nicaraguan tobacco. Light this evil little lady up, and she'll show you just how nutty she is with flavors of earth, cinnamon, and, well, nuts.

Please enjoy the Tatuaje Skinny Monsters Lancero Sampler at your leisure.

Payment & Security
Your payment information is processed securely. We do not store credit card details nor have access to your credit card information.