Tatuaje Limited Lancero Collection Sampler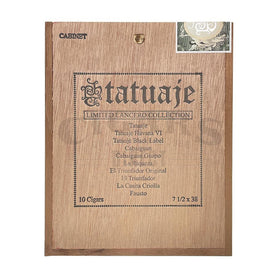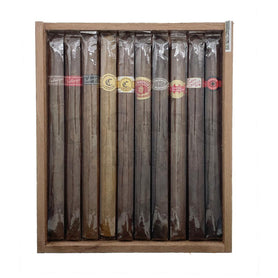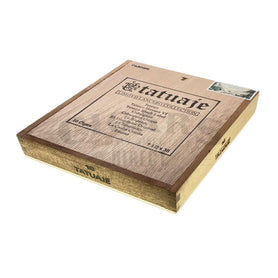 Step right up if you like 'em limited, long, and skinny because that's what you're getting in the Tatuaje Limited Lancero Collection Sampler. As the name implies, each and every one of these cigars is released in limited quantities, and in this delicious assortment, you can get them all into your humidor in one fell swoop.

This quality sampler contains one of each of the following cigars.

Tatuaje Black Label

Once exclusive to Pete Johnson's private use and those lucky enough to receive one at a Tatuaje event, the Black Label is now available to the public. We love being in on a secret, even if the beans have long since spilled. Considered by many as one of the best Tatuaje blends, the Black Label is indeed one hell of smoke. Deep within is a luscious blend of 100% Nicaraguan tobacco. Wrapping this treasure up is a sun-grown Criollo Estelí leaf. Get the Black Label burning, and flavors of cinnamon, spice, espresso, and leather flood the palate.

Tatuaje El Triunfador Broadleaf

Next in the Tatuaje Limited Lancero Collection Sampler is the El Triunfador Broadleaf. This long fella wears a great-looking, toothed-out Connecticut broadleaf. This wrapper holds a pure Nicaraguan tobacco blend snug at its core, along with a binder of the same origin. Light the Tatuaje El Triunfador Broadleaf up, and you're met with a medium-full-bodied smoke with notes of leather, cedar, and coffee. Only the Lancero version is fitted with the Connecticut broadleaf, so if that's your poison, this sampler offers that and more.

Tatuaje El Triunfador

Similar to the Tatuaje El Triunfador Broadleaf but with an oily Ecuadorian Habano wrapper, at the heart of the El Triunfador is a blend of pure Nicaraguan tobacco and binder. This one is medium in body and will delight with a top-shelf combination of caramel, espresso, and wood.

Tatuaje Fausto

The Tatuaje Fausto utilizes long-leaf fillers and a binder grown in the rich soils of Nicaragua. Covering these is a super dark Ecuadorian Habano Maduro wrapper that makes the red band stand out for a truly classy look. This is a complex, bold smoke that remains nice and balanced all the way down. Once lit, you'll experience spice, cedar, dried fruit, and overall earthy quality. Damn, this is one hell of a splendid smoke. Don't miss it!

Tatuaje Havana VI

The 93-rated Havana VI wears a red-hued oily Ecuador Habano leaf. This red devil covers an aged blend of high-quality Nicaraguan long-fillers. The cigar is medium-bodied, but don' let that fool you—there is plenty of kick here. The burn is even, and the draw is easy. Once burning, expect plush, creamy clouds of smoke laced with wood, pepper, spice, and leather.

The Havana VI gets its name from Pete Johnson's unrelenting drive to master Cubanesque cigars produced from non-Cuban soil. The Roman numeral represents the line's six various Vitolas. Remove the label, give this stick to a friend, and they may even think it's the real deal.

Tatuaje Selección de Cazador

Next in our Tatuaje Limited Lancero Collection Sampler is the Selección de Cazador. Not only was this the OG Tatuaje line, but it was also the one that Pepin Garcia produced solely on his own, in collaboration with Pete Johnson, of course. At the heart of this cigar is Cuban-seed tobaccos grown in Nicaragua. A hearty Ecuadorian Habano leaf rests just above. The medium to full-bodied Selección de Cazador is loaded with flavors of cedar, earthiness, spice, and dark chocolate. The finish is long and creamy. Break this long, skinny stick out at a card game, and you may even distract your friends from calling a bluff or two.

Tatuaje Cabaiguan

Let's turn the volume down a notch for the mellow-medium Cabaiguan. The honey-brown Ecuadorian Connecticut leaf on this stogie looks good enough to eat, though we don't recommend it. What we do recommend is lighting one up to get the Cuban-seed Nicaraguan fillers purring. It'll whisk you away to a mellow-medium world of dark chocolate and espresso along with a touch of floral notes.

Smoke the Cabaiguan with your morning coffee as the sun comes up. It'll really set the tone for a peaceful day.

Tatuaje Cabaiguan Guapo

Continuing on in the Tatuaje Limited Lancero Collection Sampler, we have the Cabaiguan Guapo. This is a different take on the Cabaiguan. It holds the same 100% Nicaraguan tobacco blend but with a dark Connecticut broadleaf Maduro wrapper. The result is a full-bodied smoke that will keep you smiling all the way down.

Tatuaje La Riqueza

La Riqueza is an old Cuban cigar line from the 1920s which means "the wealth." It is believed that this is where this Tatuaje line gets its name. These smokes are indeed a wealth of flavors, so it makes sense.

The dark and oily Connecticut broadleaf wrappers were acquired from none other than the famed Oliva Tobacco Co., so you can be confident that this cigar will not fail to impress. Beneath the tasty leaf is Cuban-seed Nicaraguan long-fillers. There is no shortage of lush smoke clouds when smoking the Tatuaje La Riqueza. Like many Tatuaje cigars, this line aims to please the likeness of Cubans. This one is spicy, complex, and sweet. If you're looking to share the wealth, make sure to grab two of these limited samplers.

Tatuaje La Casita Criolla

Closing us out is the La Casita Criolla. This innovative line is made exclusively of Connecticut broadleaf tobaccos. You read that right—filler, wrapper, and binder—100% Connecticut broadleaf. This is no easy task due to the thickness of the leaf, but Tatuaje made it happen. So if you love all things Maduro, and here we truly mean all things, then you're going to be smitten with this stogie. The result is a chewy medium-full-bodied smoke that'll massage your palate with flavors of sugar, spice, chocolate, espresso, and cedar.

If your humidor doesn't boast a Maduro like this pure Maduro, it's time to get one in there, don't you think?

Please enjoy the Tatuaje Limited Lancero Collection Sampler at your leisure.

Customer Reviews
Write a Review
Ask a Question
Tatuaje lancero sample box
Overall great cigars. All of them had a nice and smooth draw. A great opportunity to try some of the blends I never tried before.
04/11/2022
Sidney U.

United States
Slipped up and bought a 2nd box
Had such a great experience with the first box that I bought a 2nd box before I went through the 1st. Great product and great service. Thanks a million.
08/08/2021
Autoro W.

United States
Love them!
So far I'm loving these. Tatuaje knows how to make great sticks. Will buy more!
Payment & Security
Your payment information is processed securely. We do not store credit card details nor have access to your credit card information.