Sigmund: Chapter One "The Disruptor" LE 2023 Double Corona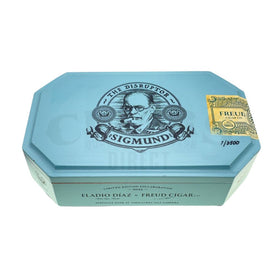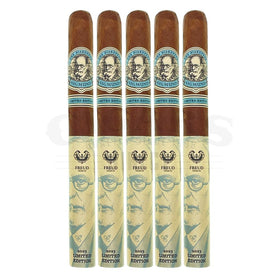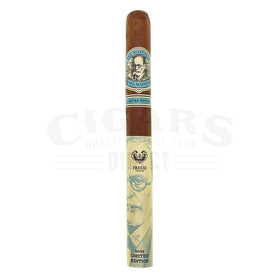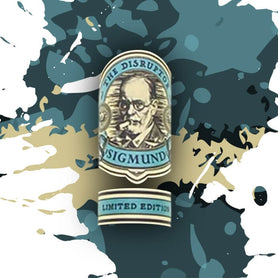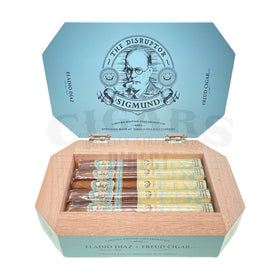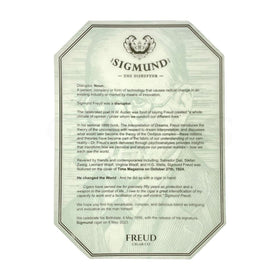 A person may be remembered for a few disruptions, but Freud upended the way we understand ourselves entirely. Modern industry disruptors have nothing on the man who will forever have us analyzing our dreams and looking for deeper meaning in our swirls of smoke.

He was also a famous cigar lover.

These Freud Sigmund: Chapter One "The Disruptor" cigars are an attempt at an ultra-premium that properly honors him.

They are the product of a lifelong cigar man's best efforts to produce something outstanding. Eladio Diaz had, for years, been responsible for production quality at Davidoff in the Dominican Republic. This brand is his chance to put his considerable expertise to work to make works of art that represent what one can accomplish after a lifetime of cultivating expertise in the art of cigar making.

He calls it a "love letter to the craft."

3,500 boxes have been made, and each costs a pretty penny. Unveiled at an event for the well-heeled smokers of Greenwich, Connecticut, the Disruptor cigars were received to cheers of applause and a fantastic five-course meal. If Freud had been there, we bet that the conversation at his table would have been truly fascinating.

These 7.5 x 50 double coronas are made for those in need of a major smoke. Not a smoke break, but a transformative smoke journey. Lay back and tell us what you see in those clouds of white that you puff out. Consider the inner workings of your mind, and guess at the inner composition of the blend. Your guess is as good as ours – all the leaf is undisclosed. The report is that there are seven different tobaccos, with five in the filler blend.

We CAN say that the smoke is luscious. Full of high-quality cocoa notes, fragrant cedar and woods, and a walnut finish that is only the beginning of an adventure that starts in fire and ends in ash.

It's a thinking man's smoke. Enjoy, and don't blame us for what you dredge up from the depths of your mind.
This Sigmund: Chapter One - "The Disruptor" LE 2023 Double Corona cigar is made in the Dominican Republic. The Sigmund: Chapter One - "The Disruptor" LE 2023 is a Medium-Full-Bodied Double Corona-shaped cigar with a length of 7.50 and a ring gauge of 50.
Freud Cigar Co. is introducing part one of their limited-edition series, Sigmund: Chapter One-The Disruptor, honoring the renowned psychoanalyst's May 6 birth. This rare double corona features a 7 1/2-inch long, 50-ring gauge cigar crafted by the renowned Eladio Diaz at the Tabacalera Diaz Cabrera factory in the Dominican Republic.
The Company is not releasing any details about the blend other than it contains seven unique tobaccos and five distinct fillers, details of the blend remain a closely guarded secret.
Limited to 3,500 boxes of 10, The Disruptor is not to be missed!!!
Please browse our selection of Freud Sigmund: Chapter One "The Disruptor" cigars at your leisure.

• What are the flavors like?
o Cocoa, cedar, walnut

• What's the strength level?
o Medium-full

• Who is this cigar for?
o Freud Sigmund: Chapter One "The Disruptor" cigars are for people who love to navel-gaze when they take in ultra-premium blends.

• Will I want to smoke it to the nub?
o It's a triumph. Enjoy every draw.

• What's a good pairing with it?
o High-end scotch.

• What's the best time/place to smoke this cigar?
o When you just don't get what the hell is going on in your head.

• Any flaws/downsides?
o Pricey and mysterious. Some folks aren't going to be into this vibe.
Payment & Security
Your payment information is processed securely. We do not store credit card details nor have access to your credit card information.