Room 101 Big Payback 70s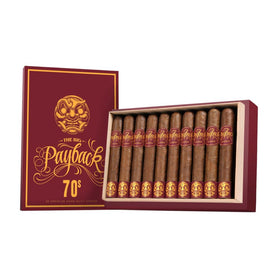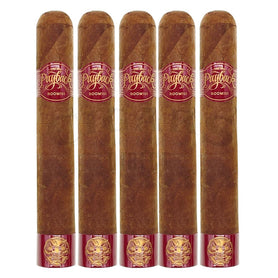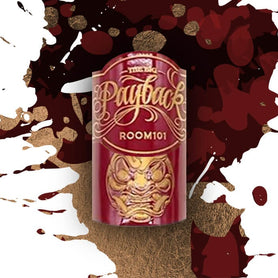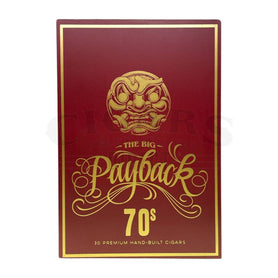 Why does Room 101 Big Payback 70s exist? We'll let company founder Matt Booth explain himself as only he can:

"It has been my life's mission to produce a combustible vessel so engorged and far more magnificent than its standard counterpart in cylindrical presentation, and it's my greatest honor to offer our people such a product that overflows with both girth and grandeur."

Lmao. The innuendo is strong with this one.

When he's not making jokes about ding dongs, he's blending up incredible cigars like this absolute bat. Fans can rejoice because the Room 101 Big Payback 70s cigar is actually a throwback to a size that once ruled the market, along with a few other fat ring gauge brethren. It disappeared, but now we can see it coming over the horizon and blotting out the sun with its tremendous size.

7 x 70. Start doing those jaw exercises now.

"Gordo" doesn't really do it justice, but that's what we're calling it.

Brace yourself for the feast of tobacco that is going to land on your doorstep if you have the balls to add Room 101 Big Payback 70s to your cart: 1) a flavorful Honduran Olancho San Agustin wrapper leaf, 2) a hearty Connecticut Broadleaf binder, and 3) a long-filler blend of Dominican (Piloto Cubano), Honduran (La Entrada), and Nicaraguan (Condega) leaves.

This thing is packin'.

The flavors are meaty and spicy like a hot platter of barbeque dropped off at your table at a great smokehouse. You're going to be smacking your lips and reaching for a cold one when you have this thing lit and puffing away. They'll be seeing the smoke rising over the eaves of your house halfway down the block if you and a few friends decide to take this one on together.

We gotta wrap this up before the description goes completely off the rails.

It's huge. It's sold at a great price. It's everything your tobacco-loving heart desires.

"Don't get insecure, honey. The guy who sold it to me is just a friend!"

CD out.
This Room 101 Big Payback 70s cigar is made in Honduras. Outside, you'll find a Honduran Olancho San Agustin wrapper. Inside, the binder is Connecticut Broadleaf, and the filler is Dominican, Honduran, and Nicaraguan. This is a Gordo cigar with a length of 7.00 and a ring gauge of 70.
Please browse our selection of Room 101 Big Payback 70s cigars at your leisure.

• What are the flavors like?
o Meat, spice, and everything nice

• What's the strength level?
o Medium-full

• Who is this cigar for?
o Room 101 Big Payback 70s are for size kings.

• Will I want to smoke it to the nub?
o You can try!

• What's a good pairing with it?
o A pitcher of cold beer

• What's the best time/place to smoke this cigar?
o When you're tired of cigars that can't satisfy

• Any flaws/downsides?
o It's all fun and games until you've got a huge honkin' stogie in your hands.
Payment & Security
Your payment information is processed securely. We do not store credit card details nor have access to your credit card information.