Romeo y Julieta Reserva Real Twisted Toro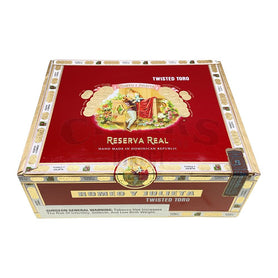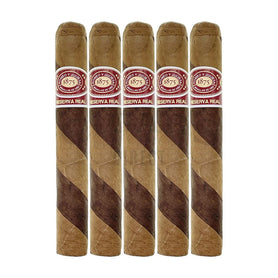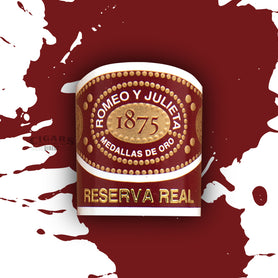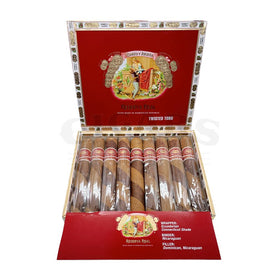 Romeo y Julieta Reserva Real Twisted cigars are based on a blend that many, many people swear by. The standard, classic Reserva Real has an Ecuador Connecticut wrapper, and is beloved the world over for a light and enjoyable flavor profile. Seriously, people have been smoking it since before plenty of our customers were born, and they'll probably still be puffing it after we all get knocked into the Great Cosmic Ashtray of Life.

But this is a flashier, more interesting take on the best-selling blend.

You'll notice (if you have working eyes) that Reserva Real Twisted cigars are made in barber pole fashion. That is, they have two wrappers swirling around each other like the red and white stripes of a spinning barber pole. In this case, it's Ecuadorian Connecticut shade for the lighter-colored leaf and Habano maduro for that dark, earthy brown. Underneath these entwined wrappers is a Nicaraguan binder over long-filler tobaccos from the Dominican Republic and Nicaragua.

The flavors are more complex than you get with the original, and that's probably part of the point. Dark roasted espresso, fruit notes, chocolate, and a core of Dominican leather are all in the mix. This isn't stable, eternal love – this is the more chaotic rush of passion that is true to the roots of Romeo y Julieta, the story of two teens from rival houses who tried to hook up and wound up causing six deaths, including their own.

Makes your own disaster dates seem downright wholesome, doesn't it?

This is a fantastic twist on a certified classic. Pick it up and enjoy it when you need the spicier side of love.
This Romeo y Julieta Reserva Real Twisted Toro cigar is made in the Dominican Republic and features a Barber Pole appearance.  This is due to the dual wrappers draping this beautiful cigar. Outside, you'll find Ecuadorian Connecticut Shade and Habano wrappers. Inside, the binder is Nicaraguan, and the filler is Nicaraguan. This is a Toro cigar with a length of 6.00 and a ring gauge of 54.
Please browse our selection of Romeo y Julieta Reserva Real Twisted cigars at your leisure.

• What are the flavors like?
o Coffee sweeter than sin, forbidden fruit, Valentine's Day chocolate, and exciting leather

• What's the strength level?
o Mild-medium

• Who is this cigar for?
o Romeo y Julieta Reserva Real Twisted cigars are for people who want a rock-solid blend with a splash of fun.

• Will I want to smoke it to the nub?
o Yes, absolutely. Gripping as a love affair!

• What's a good pairing with it?
o An apassimento wine. Le Colombare Recioto di Soave 2018 from Italy will tickle your taste buds and pair well with the fruit notes of this RyJ blend.

• What's the best time/place to smoke this cigar?
o When you're stuck on someone and it's not a good idea to stay that way

• Any flaws/downsides?
o No, and these are beautifully made, too. Fitting!
Payment & Security
Your payment information is processed securely. We do not store credit card details nor have access to your credit card information.