Rocky Patel Anniversary Collection Sampler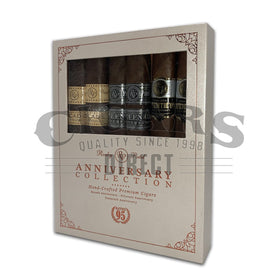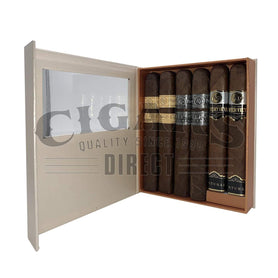 The Rocky Patel Anniversary Collection Sampler is an assortment of three of Rocky's greatest hits. Each cigar in this sampler is 90+ rated. Rocky has an issue with perfectionism. He'll work and work until he gets it right. Well, his issue is our good fortune, especially with a trio as fantastic as this one. Do yourself a favor and celebrate yearly with an anniversary marking the day you finished off this sampler. With impeccable tastes like yours, they should arrange a parade and give you the key to the city.

This fine sampler contains two each of the following cigars.

Rocky Patel Decade

According to Rocky Patel Premium Cigars, the Decade line earned an incredible 95 rating for its complexity, balance, and elegance. A blend like this doesn't happen overnight. In fact, it took a decade to perfect. But this isn't where the Decade gets its name. The cigar was named to mark Rocky's tenth year in the cigar industry. An impressive feat, especially after surviving the cigar boom. Okay, back to the cigar.

The Decade continues to be one of Patel's best sellers. Grab one of our samplers, and it won't take long to figure out why. But part of the fun of the Decade is the mystery of its contents. What the company calls "a secret blend featuring only the finest tobaccos in the world" waits at the core of this stick, cradled by a Nicaraguan binder and topped off with a showstopping oily and toothy Sumatran wrapper. Once burning, notes of wood, pepper, leather, and nuts present themselves. This is a medium to full-bodied cigar with a long, savory finish. Don't miss it!

Rocky Patel 15th Anniversary

Let's keep the anniversary celebration going with the 93-rated 15th Anniversary, which celebrates—you guessed it—15 triumphant years in the cigar game for Rocky and company. Many feel the 15th Anniversary tops any of Patel's previous smokes. Let's have a look for ourselves.

Many of Rocky's cigars are produced in Honduras. But not the 15th Anniversary. This one is straight outta Nicaragua and will not disappoint. At the heart of this cigar, we find a Nicaraguan binder and tobaccos wrapped up in an Ecuadoran wrapper to deliver a medium to full-bodied smoke. The result is a memorable experience of cocoa, spice, nuts, and espresso.

Rocky Patel 20th Anniversary

Closing out the celebration is the 90-rated 20th Anniversary stogie. This may seem like a lot of anniversaries, but it's not. We won't be satisfied until Rocky releases an anniversary smoke for each year in business. Of course, we're kidding here (kind of). With the number of quality cigars coming from this team, we can't complain.

Twenty years in business is an impressive milestone for any industry, especially the cigar industry. First, they said you couldn't beat the Decade, but many feel the 15th Anniversary achieved that feat. Then they said the 15th is impossible to outshine, but now many true believers feel the 20th Anniversary is the new smoke on top. Let's see what makes this celebrated cigar tick.

The 20th Anniversary wears a gorgeous Honduran wrapper keeping Honduran and Nicaraguan long-fillers nice and safe for ignition. Here we have a medium to full-bodied smoke complex in character yet considerably well balanced. Within, you'll find flavors of spice, espresso, pepper, mocha, and cedar.

Happy anniversaries are always a reason to celebrate. The three occasions Rocky has invited us to celebrate are more than worthy of a tip of the ash—especially when that ash is coming from one of these premium sticks.

Please enjoy the Rocky Patel Anniversary Collection Sampler at your leisure.
2 - Rocky Patel Decade Toro
2 - Rocky Patel 15th Anniversary Toro
2 - Rocky Patel 20th Anniversary Toro.
Customer Reviews
Write a Review
Ask a Question
06/07/2020
Wilbert G.

United States
Gift for friend.
The ordering process was very easy and from start to checkout, I felt very comfortable and at ease. I can't comment on the stoggies because I ordered them as a Birthday gift!!
05/31/2020
Pati B.

United States
Rocky Patel Collection
Every cigar was in great condition. All smoked very nice. All selected to compliment each other's experience.
Payment & Security
Your payment information is processed securely. We do not store credit card details nor have access to your credit card information.