Punch Dad Bod Perfecto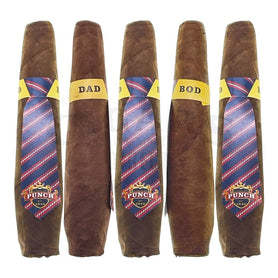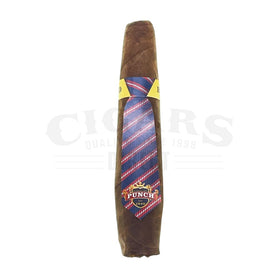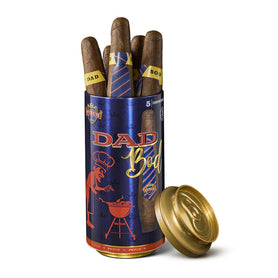 General Cigar Co.'s Punch Dad Bod honors the " Dad bod" physique, with a 4 1/2 x 60 Perfecto. Packaged in sets of four "reusable stash cans" resembling beer cans, each cigar features a band with a tie design. The blend features tobaccos from 6 countries: Cameroon wrapper, Connecticut broadleaf binder, Brazilian mata fina, Dominican piloto cubano, and tobaccos from La Entrada, Honduras, and Condega, Nicaragua. Produced at STG Danlí, Honduras, the limited release is an ideal Father's Day treat!
Punch Dad Bod cigars are a dad joke come to life!

In a clear effort to scoop up all those precious Father's Day dollars, Punch has gone all out with a hilarious cigar that checks all the boxes. You've got to hand it to them – they've missed nothing when it comes to this fun summer treat.

For beer lovers: these stogies actually come in reusable stash cans! Each can has five cigars and there's four of them in the 20-pack. It's a fantastic pickup if you have a collection of dads and uncles and want to plop down a perfect gift for Father's Day on that patio table.

Punch Dad Bod cigars themselves are shaped into perfect fatherly perfectos, with a nice round midsection. Hold one up to yourself in the mirror and see a stogie made in your own image!

They also come wearing the eternal Father's Day tie. Even when you don't get a tie as a gift, one still shows up anyway!

The blend itself is off the charts. Dad deserves the best, and Punch went hog wild when crafting this one. There's a woody Cameroon wrapper, just like you'll find on some top-scoring Fuentes like the Don Carlos and Hemingway. Then Punch went with a hearty Connecticut broadleaf binder. The long-filler blend is a fresh off the grill feast of Brazilian mata fina, Dominican piloto cubano, and tobaccos from La Entrada, Honduras and Condega, Nicaragua.

Good gravy!

The flavors are spicy and savory, with notes of pepper steak, leather recliner, and frosty porter.

The packaging is going to grab your eye, but don't sleep on this blend. It's a monster smoke at a fairly attainable price.

Happy Father's Day, gents!

Please browse our selection of Punch Dad Bod cigars at your leisure.

• What are the flavors like?
o Pepper, steak, leather, dark beer

• What's the strength level?
o Medium

• Who is this cigar for?
o The Punch Dad Bod cigar is for dads.

• Will I want to smoke it to the nub?
o If the kids leave you be, you'll be in heaven with this one.

• What's a good pairing with it?
o Frosty brew or a nice whiskey cocktail. You pick. It's your day, daddio.

• What's the best time/place to smoke this cigar?
o Father's Day luxuriating in your favorite chair.

• Any flaws/downsides?
o Reminds you that you're out of shape.
Customer Reviews
Write a Review
Ask a Question
Payment & Security
Your payment information is processed securely. We do not store credit card details nor have access to your credit card information.