Perdomo Firecracker Short Robusto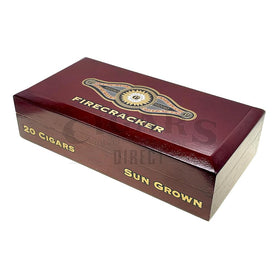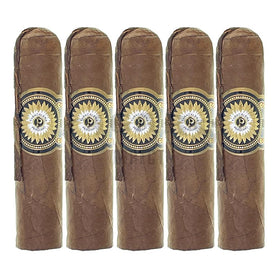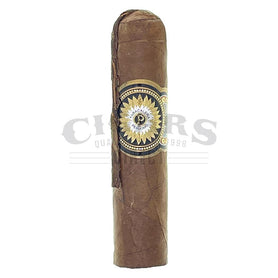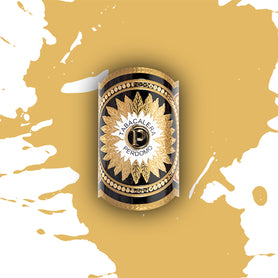 This Perdomo Firecracker Short Robusto cigar is made in the Dominican Republic. Outside, you'll find a Bourbon Barrel Aged Sungrown wrapper. Inside, the binder is Nicaraguan, and the filler is Nicaraguan. This is a Short Robusto Shaped Cigar with a length of 3.50 and a ring gauge of 52.
Perdomo Firecrackers cigars bring a great blend into a really fun format. It's a 3.5 x 52 Short Robusto complete with a long wick snugged down along the band. Sadly, the wick isn't for lighting (although we have to imagine some dudes gone off 4th of July beers have made that mistake). Instead, you've got a couple of options: you can simply pull it off and de-cap the cigar, or you can use a cutter and nip the tip. Then you light up as per usual.

For folks who are confused, the Firecracker is also put out by a few other brands. United Cigar heads things up, making their own patriotic American version as well as the controversial Irish Car Bomb. You'll also find Foundation Firecrackers and others. It's a popular shape and size that actually dates back to 2006. Don Pepin Garcia was the first to roll them up as a shop exclusive, and they caught on from there like strontium salts in a red holiday firework.

The Perdomo Firecracker cigar is a Nicaraguan puro. The filler is grown in Estelí, and the wrapper is a gorgeous one. This is the same as you would find on Perdomo's 20th Anniversary Sun Grown blend. This Cuban-seed tobacco is aged for a little over a year in bourbon barrels, which is a Perdomo signature process. Their famous "champagne of wrappers" is one of the many reasons that Perdomo is among the top-selling cigar companies in the world.

Kick back in your lawn chair under a brightly lit nighttime sky with a cold one and light the Perdomo firecracker up for flavors of earth, nuts, pepper, and even some citrus. It's a great companion to summer fun and the box just begs to be busted out at a backyard party. Get a bunch of newbies hooked on this beautiful vice as they puff on a stogie that doesn't demand much of a commitment.

Be careful, though. This thing is full strength, like the spirit that brought this great country independence those many generations ago.

Please enjoy our selection of Perdomo Firecracker cigars at your leisure.

- What are the flavors like? Earth, nuts, pepper, citrus

- What's the strength level? Full

- Who is this cigar for? Firecracker by Perdomo cigars are for those who want a complex full-strength blend in a fun-size

- Will I want to smoke it to the nub? You pretty much start there, but yes, the flavor will keep you smoking.

- What's a good pairing with it? Cold summer beers of any kind

- What's the best time/place to smoke this cigar? Outdoor parties

- Any flaws/downsides? This thing is too good to get complaints. The reviews are pretty much entirely 5 star.
Payment & Security
Your payment information is processed securely. We do not store credit card details nor have access to your credit card information.