Partagas Original No.10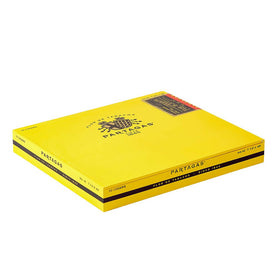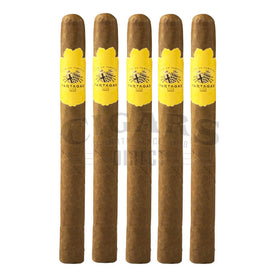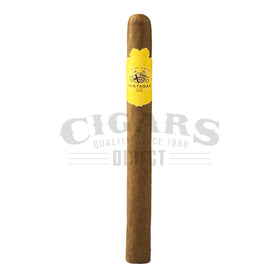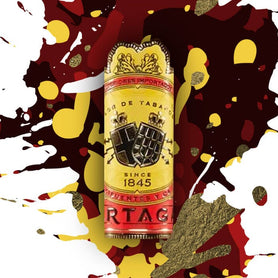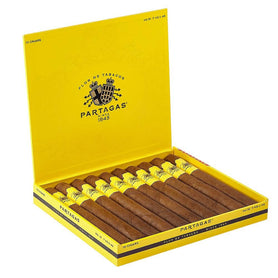 This Partagas Original No.10 cigar is made in Dominican Republic. Outside, you'll find a Cameroon wrapper. Inside, the binder is Mexican, and the filler is Dominican. This is a Presidente cigar with a length of 7.50 and a ring gauge of 49.
Customer Reviews
Write a Review
Ask a Question
Spicy
Upon light up, I get a blast of cocoa. And then some cinnamon, black pepper. Its immediately noticeable that this is a stronger cigar than the other blends. Its medium in body and full in flavor. In the first inch, I get a tart citrus with sweet cedar. The flavors are firing at me like a machine gun. Its very earthy. It has a literal shopping list of flavors. It becomes very creamy as the cigars warms. I love the pepper. Its a wonderful counterpart to the sweet flavors that abound.The construction is normally very solid, especially with the triple cap. But once in a while, I get a run, a canoe. But it will fix itself without any help from me. When you hold the cigar up to the sunlight, the little veins disappear and it shimmers like gold....cocoa gold. This might be the wrong thing to say, but I think this cigar is under priced. Its only around $7. It could go for a few bucks more and still be in the right price range. Of all the AVO blends, this is my favorite. Its a very aromatic cigar. My wife doesnt nag at me when I smoke this stick. In fact, she likes it. I forgot to mention that throughout, there is a mild leather flavor. Its a meaty cigar. The creaminess and pepper end the cigar to the nub. I read the cigar forums and I dont see a lot about AVOs and I dont know why. Most are consumed by the latest entries into the cigar world. But this is a good, solid, consistent cigar. Worthy of being talked about.
This is my go to maduro
I love Ashton cigars. These are not cheap vitolas by any standard. But I make a decent living and I like to treat myself. I have no other vices...really! So cigars is it. Of course, like every other smoking junkie, I find myself begging my wife to be kind to me. And that I just have to purchase these cigars, blah, blah. The Ashton maduro. The color varies from a rich oily brown to a deep tan color...even black sometimes. The texture is a bit rough...toothy. It is a somewhat rustic looking cigar. I also smoked the Ashton Classics and its a big difference in wrappers. But Ashton obviously does things for a reason. Upon light up, the body kicks off right away medium body with just a smack of a bite. After each puff, I am left with a soft creaminess on my mouth and tongue. The flavor is naturally sweet. The maduro wrapper mandates the flavor profile while the taste of burnt almonds swirls around in the creaminess. I really like the robusto size. First of, the price point makes it easier on me. Plus it gives me options I dont have with bigger sizes. Im more in control. This is a very full flavored cigar with loads of complexity, but is extremely smooth. Towards the end, it is never harsh or bitter. Great Cigar!
The mother of all cigars
Now this is a monster. Not an A monster, but close. At 7-1/2 x 52, its a logging camp. I get off work around 3 PM every day. We eat early because its just my wife and I and we are in our 60s. So dinner at 5 is commonplace. With an almost perfect Connecticut wrapper, the quality of the rollers is massively apparent, with a firm but not overly hard texture, without a nice solid feel but with a few veins present. Every cigar is like this. Consistency is what make this such a popular and respected cigar. The scent from the wrapper is giving me a sweet tobacco aroma with a tinge of spice in the background. I always appreciate the spice..big or small. It gives the cigar character. After dinner, I go downstairs to my man cave. We live in Minnesota and winters are hard. My man cave is finished and beautiful. Its like an apartment downstairs. I sit in my reclining chair, carefully pick out which cutter I want to use tonight and carefully take just the very top off, leaving no tobacco in the cap. My favorite lighter is my Blazer. I like the intense torch for being able to pinpoint the flame. And with this baby, it takes a little time to toast the foot. But its worth it. My first impression is a deep toasty notes of clove with a creaminess thats divine. The first burst is followed by a nuttier and smokier finish. There is a balance between the salty and bitter locales of my palate. This cigar has a saltiness thats very unusual. Makes me think of big ol pretzel sticks. I pick something on the TV, usually a movie. We have all the movie channels because Im a buff. In a previous life, I was in the movie business. I dont care for all of the ****** TV shows. They annoy me. I dont like to burnish the taste of the cigar with a flavored liquid. I always grab a nice chilled bottle of water from the fridge next to my chair. The water keeps my palate cleansed. I dont want my Ashton to taste like beer or a Coke. This stick lasts me all evening long. More than two and a half hours. I like the big cigar because it takes longer for the flavor profile to develop and therefore becomes so much more complex than a shorter stick. The last half is my favorite. Its like an old fashioned egg cream which has neither egg or cream in it. These were very popular in the 1950s, especially on the East coast. The creaminess has a long finish. I try not to drink any water at this point so as not to disturb the flavor..but sometimes I relent as my throat and mouth get dry. At $14 a stick, this aint nothing to be trifled with but Ive worked hard all my life and I deserve a treat after dinner. I am selfish. I do not share these except with the best of best of friends. On occasion, I get a mooch who tries to talk me out of one, and I say, Sure...that will be $20.
Payment & Security
Your payment information is processed securely. We do not store credit card details nor have access to your credit card information.