Padron 1926 Anniversary Natural Sampler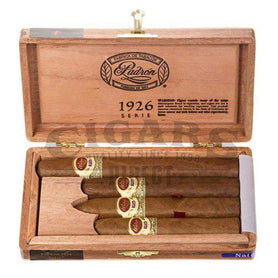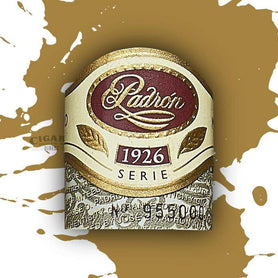 This quality collection of Padróns contains one each of the following cigars: Padrón 1926 No. 1, Padrón 1926 No. 2, Padrón 1926 No. 6, and Padrón 1926 No. 9.
A cigar brand as well made and consistent as Padrón doesn't happen overnight. It doesn't even happen over a year or even a few decades. In fact, the Padrón cigar family has been at it for generations to reach such an extraordinary level of quality. And there was indeed a good deal of hardship along the way, including civil war, factory fires, becoming refugees of Cuba, and more.

Through all of it, the Padróns held their heads high and kept their eyes on the prize to gift the world some of the best smoke available using only the finest tobacco Nicaraguan soil has to offer. In the Padrón 1926 Anniversary Natural Sampler, you're getting that and more. Padrón cigars are perfect for celebrating special occasions, so why not smoke one of their 1926 Anniversary sticks to mark the 75th birthday of the man who started it all, Jóse Padrón?

The Padrón 1926 Anniversary Series became available to the public in 2001. This unique blend of Nicaraguan tobaccos is limited to a yearly release of 100,000 cigars, making these gems hard to find. Luckily, in the Padrón 1926 Anniversary Natural Sampler, you're getting four of them in a variety of shapes and sizes. Since these cigars are so limited, each wears a band displaying an individual serial number to protect consumers from counterfeiters.

At the core of these cigars, we find that special Nicaraguan tobacco grown with the expert Padrón touch. It's then aged for five to ten years before being wrapped in a light brown sun-grown leaf, making these stogies nearly impossible to resist. Light a 1926 up, and you're in for a smooth, complex, yet well-balanced smoke laced with nuts, espresso, and chocolate.

Please enjoy the Padrón 1926 Anniversary Natural Sampler at your leisure.

Customer Reviews
Write a Review
Ask a Question
A woman is only a woman.
Perhaps the best cigars you may ever smoke!
06/08/2020
JEFF R.

United States
1926 Padron Anniversary Natural Sampler
AMAZING!!! FLAWLESS!!!
Payment & Security
Your payment information is processed securely. We do not store credit card details nor have access to your credit card information.