OV Heaven and Hell Oscuro (Red) Toro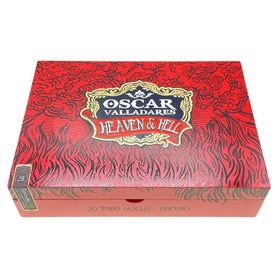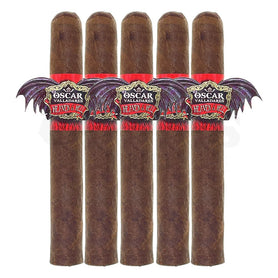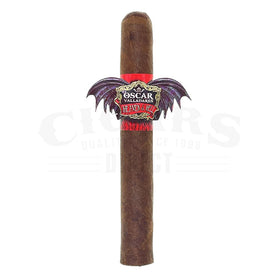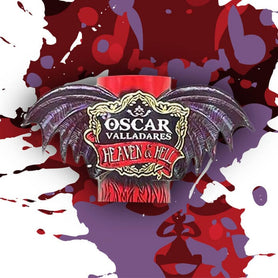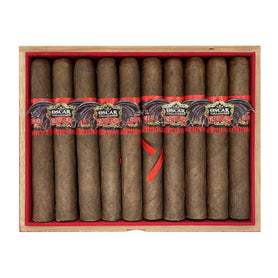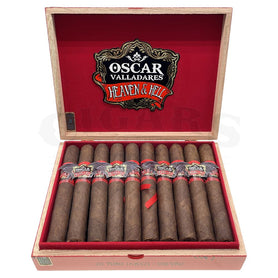 He started with a raw leaf wrapper gimmick, but at this point, no one can deny that Oscar Valladares is the real deal. The success of Leaf by Oscar and Super Fly, among other blends, shows that the man knows how to assemble a tasty little tobacco roll.

And he knows how to get your attention, too.

Oscar Valladares Heaven and Hell Oscuro cigars are flying their way into your humidor on literal banded wings. Seriously, you can even flap those little wings sticking off the cigar band. It might seem like a cool visual addition to a cigar, but we promise you're going to be fiddling with them the whole time you're smoking these cigars. It's an activity unto itself.

This has to go on the list of the coolest / most innovative cigar looks for the year. It's going to turn heads when you bust it out, guaranteed.

Oscar Valladares Heaven and Hell Oscuro cigars are part of a twin blend set. There's Heaven and there's Hell. Both are based on the same interior blend of Mexican San Andrés over Honduran long-filler. This red "Hell" version then uses a Nicaraguan oscuro wrapper. This is one of the lightest-colored oscuro stogies we've seen, but we'll just chalk that up to the effect of curing it in Hellfire.

As you might expect, the Hell blend is built to be spicier and more forceful than the Heaven blend, and of course, it is. The flavor profile brings in chocolate, earth, and red pepper, accompanied by a playful little note of stone fruit. Potency is noticeable right off the bat, but the cigar doesn't really peak above medium. It's not meant to torture the living. You can wait until the hereafter to receive your real punishment. Or, you can pay Miss Desdemona Darkness her standard rate of $350/hr and she'll give you a preview of what you're in for.

Ok. We're getting off track.

This is an enjoyable, flavorful blend from Oscar with a bit of sweetness and balanced spice. Repent, sinners. Puff as much as you like, but know that the end (of the cigar) is near.
This Oscar Valladares Heaven and Hell Oscuro Toro cigar is made in Honduras. Outside, you'll find a Nicaraguan Oscuro wrapper, the binder is Mexican San Andres, and the filler is Honduran. This is a Medium Toro-shaped cigar with a length of 6.00 and a ring gauge of 52.
Please browse our selection of Oscar Valladares Heaven and Hell Oscuro cigars at your leisure.

• What are the flavors like?
o Chocolate, earth, red pepper, stone fruit

• What's the strength level?
o Medium

• Who is this cigar for?
o Oscar Valladares Heaven and Hell Oscuro cigars are for people who just can't stop breaking the rules.

• Will I want to smoke it to the nub?
o Yeah, folks seem to be liking this one and preferring it as the better of the two H&H blends.

• What's a good pairing with it?
o Other vices. Grab a Whistle Pig Small Batch Rye for your liquor. It's a potent pairing.

• What's the best time/place to smoke this cigar?
o Prior to asking for forgiveness but after transgressing

• Any flaws/downsides?
o It's not super full, and some folks may expect that.
Payment & Security
Your payment information is processed securely. We do not store credit card details nor have access to your credit card information.