Oliva Gift Assortment and Cutter Sampler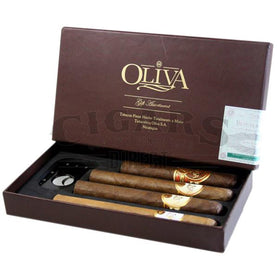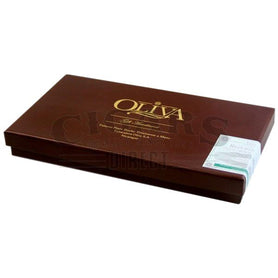 Just because the Oliva Gift Assortment and Cutter Sampler has the word "gift" in its name doesn't mean you can't gift it to yourself. Better yet, gift one to yourself and one to a friend. This gift set is presented in a handsome box and contains a branded Oliva metal guillotine cutter and a variety of sizes and strengths.

The Oliva Gift Assortment and Cutter Sampler contain one each of the following cigars.

Oliva Connecticut Reserve

Leading off our Oliva Gift Assortment and Cutter Sampler is the Oliva Connecticut Reserve. At the heart of this cigar, we find aged Nicaraguan long-fillers and a Nicaraguan binder. A silky, super blonde Ecuadorian Connecticut leaf wraps everything up. All of these components working together make for a creamy smoke that covers your pallet. To start, this smoke comes heavy with the spice, but that's evened out quickly with notes of cream, sweetness, cedar, nuts, and pepper. Keep smoking, and leather appears while the nutty flavor gains momentum. The pepper and cedar notes continue until the cigar wraps up with nuts, coffee, and leather notes.

Oliva Serie G

Next up, we have the 91-rated Oliva Serie G. At the heart of this toro is a top-secret Oliva family blend comprised of a Cuban-seed Habano Nicaraguan binder that cradles Nicaraguan Habano long-fillers. Draped over these cigars is a dark, aged African Cameroon wrapper.

A swell of creamy chocolate and sweetness starts off the medium-bodied Oliva Serie G. Keep it burning, and notes of leather, cedar, and coffee enter the picture. At the end of the smoke, the creamy chocolate notes are prominent in addition to a sweet tobacco flavor.

The G is a smooth stick perfect for a wide variety of occasions, though the backyard venue is tough to beat.

Oliva Serie O

Up next in the Oliva Gift Assortment and Cutter Sampler is the 94-rated Oliva Serie O. In addition to the stellar rating, Cigar Aficionado named the O one of their Top 25 Cigars of 2013, but this is nothing new to Oliva. They've secured top spots each year since 2005, with the exception of 2015.

The Oliva Serie O uses Habano seeds to cultivate top-notch tobacco in Condega, Esteli, and Jalapa Valley. A savory Habano binder cradles this special blend, and a sun-grown Habano wrapper ties this Nicaraguan puro together. After that, it's ready for the spotlight.

This medium to full-bodied stick first hits you with a blast of spiciness, cedar, and earth notes. A bit further down and sweet flavors start to pop up as the cedar, earth, and spice continue. The cedar pulls ahead toward the end with the coffee and nuts still present.

This cigar is for experienced smokers. If that's you, make sure to eat a full meal before toasting this big fella.

Oliva Serie V

Closing things out, we have the 95-rated Oliva Serie V. Now that is one king-hell rating! But the accolades don't stop there. The V is Cigar Aficionado's number three smoke for 2017. This impressive stogie wears a stunning, robust Habano sun-grown wrapper. Beneath that, a Nicaraguan binder cradles super fermented Jalapa Valley Ligero. Also known as the "Ligero Especial" this Nicaraguan puro produces a rich experience of smooth, creamy smoke spiked with sweetness, spice, coffee, and chocolate.

Please enjoy the Oliva Gift Assortment and Cutter Sampler at your leisure.

Payment & Security
Your payment information is processed securely. We do not store credit card details nor have access to your credit card information.