My Father Pepin Garcia 70th Birthday Elie Bleu Humidor with 100 Cigars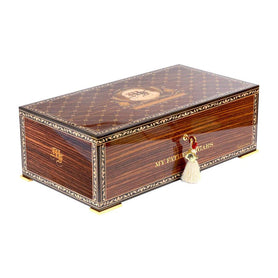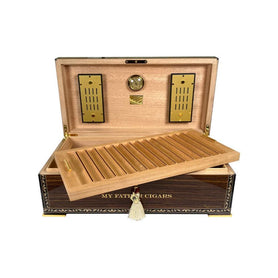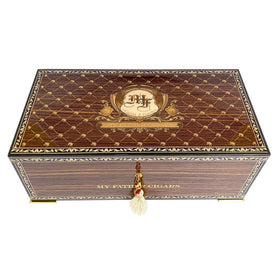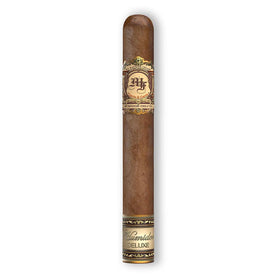 CALL TO ORDER!!!
ONLINE SALES NOT ALLOWED PER MANUFACTURER
1-888-ROBUSTO (762-8786)
More than 70 years ago in 1950, a baby was born in Báez, Cuba. This baby entered into a large family active in tobacco growing and cigar making. You could say it was in his blood or his DNA. Either way, the kid might as well have popped off a tobacco plant with the rest of the leaves.

Today the world calls him "Pepin" or "Don Pepin," but back then he was just José Garcia.

He worked his way through the industry, ultimately becoming a master roller whose skill was likened to that of a magician. He rose to become a venerable teacher of teachers and was also an incredibly talented blender. But in America, few knew anything about this, despite Garcia's work for major brands like Cohiba, Partagas, and Montecristo.

Eventually, he left Cuba, laying down roots in both Nicaragua and Miami, where he started the El Rey de Los Habanos cigar company. In the early 2000s, his talent for Cubanesque blends was a perfect match for another industry upstart who has since become a household name: Pete Johnson.

Together, the two created Tatuaje Cabinet Tainos, putting both Tatuaje and Garcia on the map. As Garcia continued his work in cigars, he founded his own company, called "My Father" cigars after a blend his son Jaime produced. The rise to fame was complete when his delectable 96-point Flor de las Antillas blend was named Cigar of the Year by Cigar Aficionado in 2012. He was elevated further to legend status in 2015 when he created a second CotY in the impossibly satisfying My Father Le Bijou 1922.

And now, he needs no introduction. But for this My Father Pepin Garcia 70th Birthday Elie Bleu Humidor, we tell a little of his story so that the table is set for one of the cigar world's most opulent feasts:

A hundred of the master artisan's Humidor Deluxe blend cigars, inside another master artisan's showstopping humidor.

The story of the Elie Bleu studio in France is equally impressive, but we won't tell it here. If you can tell by the pictures, the work speaks for itself. With expert skill in design and woodworking, the Elie Bleu team produces humidors that go way, way beyond cigar storage. These would be right at home in the office of any cigar-loving CEO or as a 70th birthday gift for a cigar-obsessed lover of fine art.

70 of these humidors were made, and an additional 5 were given to members of the Garcia family. We happen to have one – just one – for the member of our community in search of the indulgence of a lifetime.

Inside the My Father Pepin Garcia 70th Birthday Elie Bleu Humidor, you'll find 100 6.5 x 52 Toros made of a very special blend. This is the Humidor Deluxe cigar, an exclusive Nicaraguan puro with a Garcia-grown Corojo '99 wrapper. The flavors of creamy walnuts, sweet cedar, and luscious cinnamon are all there to create a cigar that does indeed deliver on the promise of its opulent "packaging." In fact, Halfwheel's Charlie Minato called it "the best thing I've had from My Father that's come out in the last decade."

The humidor itself is perfectly made – nearly flawless in form, function, and aesthetics. Lined in Spanish cedar, each cigar comes nestled securely in place. The top tray has individual resting spots for your precious Humidor Deluxe cigars. Naturally, humidifiers and a hygrometer are built-in. Lift out the tray and you'll have access to the compartments below, where you'll find a trove of cigars that will make smoke sessions a luxury for years to come.

When you're done, use the tassled key to lock things uptight. These cigars will quickly become among your most prized possessions at first draw. Pepin Garcia's 70th Birthday Humidor is a treasure 70 years in the making.

And somehow, it was totally worth the wait.

Payment & Security
Your payment information is processed securely. We do not store credit card details nor have access to your credit card information.