My Father Cigars Light Wood Ashtray and Lighter Gift Set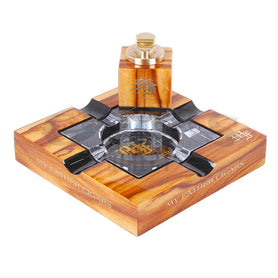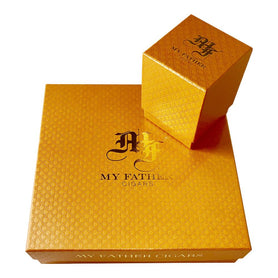 The My Father Cigars Light Wood Ashtray and Lighter Gift Set is a fine present for any cigar smoker, but for people who really love My Father cigars, it's a treat. My Father stands out in a rarified crowd of the world's best cigar makers – and that's not just hype. With two Cigar Aficionado Cigar of the Year wins, MF company founder José "Don Pepin" Garcia has guaranteed his legacy as one of the greatest blenders of all time. First for La Flor de Las Antillas and second for Le Bijou 1922, he catapulted himself into the conversation that definitely includes Padrón, Arturo Fuente, and perhaps a few others.

This is not a club that just any cigar company can join. Two-time Cigar of the Year winners is an incredibly exclusive group.

When you light up a My Father cigar, you know you're getting something outstanding. Like Padrón and Fuente cigars, you know it as soon as you taste them. It just smokes differently than almost anything else out there. And once you get a puff of it, it's hard to be satisfied by other stogies. They're just that good.

This My Father Cigars Light Wood Ashtray and Lighter Gift Set are laid in gorgeous natural wood with careful attention paid to how the gain runs on each piece. At the center of the ashtray is a removable glass bowl that you can use as-is or take with you to another smoke spot. There are four cigar rests in case you've got company, and the MF logo rests at the bottom, reassuring you that, yes, master blenders and growers are hard at work somewhere in Nicaragua creating the next My Father stunner. You don't have to worry. Don Pepin has got his watchful eye on everything.

Your lighter is capped in matte gold, with a flip-top. The push-button mechanism gets you a nice strong flame whenever you need it. Rest it on the ashtray or set it aside, it's up to you. When you need to refill, remove the center tank from its wood housing (carefully) and you will see the fill valve.

This piece makes an excellent addition to any smoker's basement, man cave, desk area, or high-end cigar lounge. As a gift set, it's a great choice for Father's Day or a birthday for the cigar smoker in your life. Both pieces come in handsome gold-colored boxes that are easy to gift wrap.

The only thing missing from the My Father Cigars Light Wood Ashtray and Lighter Gift Set is the cigars! Don't forget a nice little five-pack of our finest My Father cigars to go along with it. You can't go wrong with this brand (truly), but either of the Cigar of the Year winners – Flor de Las Antillas and Le Bijou 1922 would probably be most people's first choice. The Judge, Fonseca, La Antiguedad, and La Opulencia are also fantastic blends.

A great smoke deserves great accessories to complete the picture. And the My Father Ashtray and Lighter Gift Set fit the bill perfectly.
Payment & Security
Your payment information is processed securely. We do not store credit card details nor have access to your credit card information.