Don Pepin Garcia Firecracker Sparky Short Robusto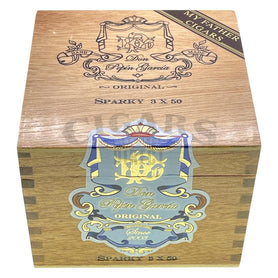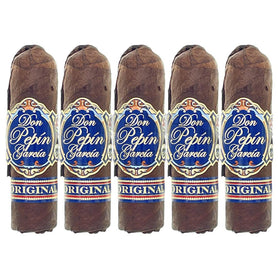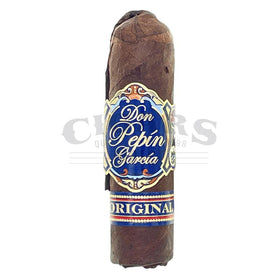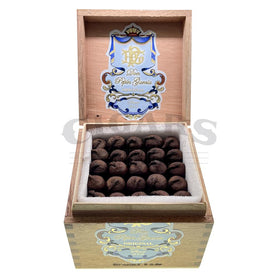 This My Father Cigars Don Pepin Garcia Blue Firecracker Sparky Short Robusto cigar is made in Nicaragua. Outside, you'll find a Corojo Oscuro wrapper. Inside, the binder is Nicaraguan, and the filler is Nicaraguan. This is a Short Robusto Shaped Cigar with a length of 3.00 and a ring gauge of 50.
Before he was known as the legendary "Don Pepin" to the American market, he was José Garcia. In Cuba, he was well known as an incredibly skilled torcedor (cigar roller) and had risen to become a teacher of teachers in the industry. But outside his world, he was not yet a household name.

That would change in time.

But those who think of him as a Cigar of the Year-winning master blender might not know that the man has a fun and playful side. The Don Pepin Garcia Firecracker Sparky cigar is a pretty clear example of that. After all, not every minute can be spent making the world's next great cigar. Sometimes, you just need to get a little silly.

The Firecracker cigar is now known as a United Cigar product, but this is the original, believe it or not. Don Pepin first twisted these bad boys up in 2006 as a shop exclusive. Any good thing in the cigar world doesn't stay under wraps for long, and this one was no different. Firecrackers grew, became more popular, and ultimately got adopted by other brands. Now there are Firecrackers by Perdomo, Foundation, and more.

The Don Pepin Garcia Firecracker Sparky cigar is a Nicaraguan puro with a corojo oscuro wrapper. This particular leaf has been referred to as the "king of wrappers," but we know that there's ample room to debate that point. Of course, if it's good enough for Don Pepin, it's good enough for us. This reddish-brown tobacco helps him bring in his signature "pepper upfront" flavor profile. To that, you can add chocolate and salty bread. As is typical for Don Pepin, the entire cigar has a classic, highly satisfying taste.

Of course, it doesn't last long. This is a 3 x 50 short Robusto that is a quick smoke, perfect for taking a break at an outdoor party and then rejoining the crowd. You won't be held down. And it's a heck of a conversation piece! With a long wick tucked into the band, the Don Pepin Garcia Firecracker Sparky cigar looks like an explosive, ready to go. Don't light the wick, though. It's to set the mood. Clip or pull it off when you're ready to smoke, and light the other end.

Please browse our selection of Don Pepin Garcia Firecracker Sparky cigars at your leisure.

- What are the flavors like? Pepper, chocolate, salty bread.

- What's the strength level? Full.

- Who is this cigar for? Don Pepin Garcia Firecracker Sparky cigars are for those who like a classic peppery flavor profile from a master blender.

- Will I want to smoke it to the nub? If you're a pepper enjoyer, then yes.

- What's a good pairing with it? Since these are such summer cigars, we say to pair them with beers from the cooler. Whatever's in there will do.

- What's the best time/place to smoke this cigar? 4th of July parties and other summer barbeques

- Any flaws/downsides? This thing is a certified premium smoke. We're not seeing criticism.
Payment & Security
Your payment information is processed securely. We do not store credit card details nor have access to your credit card information.