Montecristo The Full Monte Fresh Pack Sampler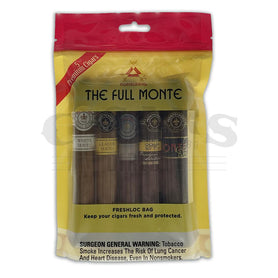 Montecristo The Full Monte Fresh Pack Sampler Includes 5 Legendary Cigars
1 - Montecristo White 5.00 x 54
1 - Montecristo Classic 6.00 x 52
1 - Montecristo Platinum 6.00 x 50
1 - Montecristo Epic 6.00 x 52
1 - Monte by Montecristo 6.00 x 60
If you're looking to taste some of the best sticks Montecristo has to offer, then the Full Monte Fresh Pack Sampler is for you. Whether you're a rookie or an experienced smoker, this gathering of high-quality cigars will delight you with a range covering everything from the light and smooth to the rich and full-bodied.

Here you'll get an incredible and diverse run of five Montecristo Toros in resealable packaging. You'd better brace yourself as Montecristo takes you on a tour of the past as well as a glimpse into the future.

The Montecristo Full Monte sampler contains one of each of the following cigars.

Monte By Montecristo

This 6 x 60 bull tosses the rulebook out the window by utilizing two savory binders — a Nicaraguan Corojo and Dominican — to achieve an incredibly flavorful experience that is robust and complex. Aged Dominican long-fillers work their magic inside these binders to create an initial flash of spice almost as sharp as the Montecristo logo's swords before quickly fading to just a hint. Wrap all of this within an Ecuadorian Habano wrapper, and you're left with a 93 rating and flavors of oak, leather, white pepper, and chocolate. This fresh take on an iconic brand is something you'll definitely want to check out.

Classic

Among all the cigars Montecristo offers, many people say the Montecristo Classic is the most complete and balanced. Top-notch Dominican filler beneath a Dominican binder enclosed in a Connecticut shade wrapper creates a mellow and well-balanced experience difficult to find elsewhere. After the smoking has commenced, be careful, as you may become overstimulated by this medium-bodied smooth cigar with delicious notes of almond, wood, coffee, and honey. This is a fantastic cigar, and we're not surprised by the 91-rating. Check out this one in our Full Monte Fresh Pack Sampler. You won't be disappointed.

Epic

This cigar arrived on the scene in 2012 for those looking for something full-bodied. The result is a stunning attack of flavor that you do not want to miss. The Epic combines premium vintage Nicaraguan and Dominican filler tobaccos from 2007. The work is complete when an Ecuadorian Habano wrapper is expertly placed over a Nicaraguan binder, leaving you with a pleasing cigar delivering flavors of cocoa, almond, earth, caramel, fruit, and coffee. Make your larger-than-life existence even more epic with this fine smoke.

Platinum

Next up in the Full Monte Fresh Pack Sampler is Platinum. This medium to full-bodied Dominican cigar is chock-full of long-leaf fillers from Peru, Nicaragua, and the Dominican Republic, and held tight by a Nicaraguan binder and wrapped in a San Andres Habano wrapper. Many say the flavor of this stogie sets the gold standard. Flavors of dried fruit, earth, baked bread, wood, and espresso are all detected in this cigar. While the Platinum is more potent than what you've come to expect from a Montecristo, we know you've got what it takes to tame this smokey beast. It's time to buy the ticket and take the ride!

White

Last on our list is the mighty Montecristo White. Montecristo combines a flawless build and aged tobaccos to form this sought-after cigar. Nicaraguan and Dominican long-fillers are wrapped in a tasty hand-selected Ecuadorian Connecticut Shade wrapper to deliver a rich experience of honey, oak, cedar, and fresh pepper. The White is an excellent addition to any humidor, as this versatile stick comes highly recommended for novice and seasoned smokers alike.

Whether it's your first or one-hundred-and-seventy-first sampler, the Full Monte Fresh Pack Sampler is a fantastic choice for anyone itching to explore the mythical world of Montecristo cigars.

Customer Reviews
Write a Review
Ask a Question
Great cigars
I've only smoked one, but it was very good. I'm sure the rest will be as pleasant.
01/18/2021
Zahi B.

United States
Delicious Sample!
You can never go wrong with a Montecristo! This sampler is cheap but provides a full experience of the Montecristo tradition of great cigars. Very enjoyable with an Islay Scotch or a Port.
Payment & Security
Your payment information is processed securely. We do not store credit card details nor have access to your credit card information.