Montecristo 1935 Lotus Lighter and Cutter Gift Set with Box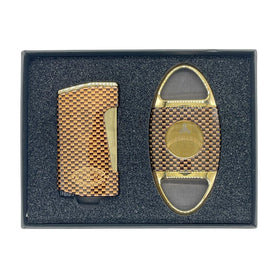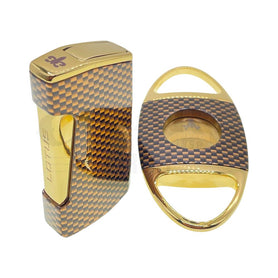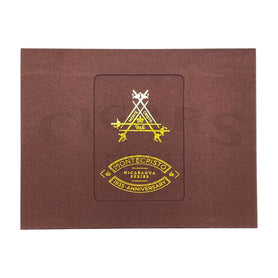 This limited edition set offers a bit of flashy elegance for any cigar lover who enjoys the finer things.

The Lotus Jaws guillotine cutter features smooth action and serrated edges for a bite that no cigar can resist. Stainless steel ensures sharp cuts, and the limited lifetime warranty means you'll never have to wonder if your cutter is covered. Capable of handling up to a 62-ring gauge stogie, you'll be able to handle some decently fat cigars using this handsome Montecristo 1935 Lotus cutter.

This is paired with a Montecristo 1935 Lotus Chroma torch lighter. Twin wind-resistant torches will get your cigars toasty and lit outdoors with no problem. The metal housing means that the lighter is tough enough to be tossed in with any gear you've got. But you won't want to treat this one roughly. It's too pretty for that! Baby it is in a shirt pocket or place of honor in the glovebox. Or, keep it in the decorative box it comes in. It's attractive enough to keep out on a smoking table in your man cave, office, or lounge.

The Montecristo 1935 Anniversary Nicaragua is, without a doubt, a cigar to celebrate. It nearly took home Cigar Aficionado's coveted Cigar of the Year award, coming up just short at #2 in 2021. 95 points of delicious Nicaraguan tobacco made this a smoke to remember, thanks to the blending talents of Rafael Nodal and the leaf-cultivating skill of A.J. Fernandez. It had a "spicy, earthy backbone refined by notes of leather, coconut, and malted milk." Delicious.

Celebrate one of the best blends in recent memory with a beautiful golden lighter and cutter accessory set from Lotus!


Payment & Security
Your payment information is processed securely. We do not store credit card details nor have access to your credit card information.