Macanudo Gold Label Golden Nugget Robusto Gordo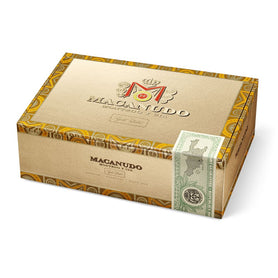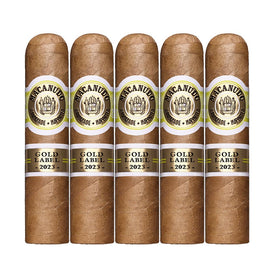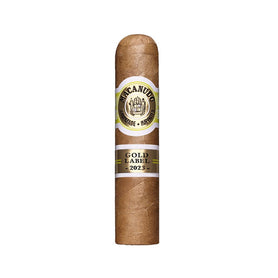 Prospectors rejoice – there's gold in them thar humidors!

The Macanudo Gold Label Gold Nugget, aside from being Goldmember's favorite smoke to have with a pancake, is a tasty and compact take on a popular Macanudo blend. The company has always been reliable for making cigars to enjoy with a morning coffee, and this one is just too perfect to pass up. The size fits just right on a saucer right next to a mug of java. It can't be a coincidence!

The wrapper leaf is a "capa especial" shade-grown in Connecticut. Instead of going for one of those brawny strong ligero leaves from the top of the plant, Macanudo found what it wanted in the first and second priming harvests. These leaves, found nearer to the bottom of the plant, take in less sun and are far milder than their potent siblings acting like solar panels up on high. The strength and flavor both are turned down to a creamy, smooth level that works just right for a blend like the Macanudo Gold Label Gold Nugget.

Then things get interesting.

Under the wrapper is a feisty Mexican San Andrés binder, and a long-filler blend from the Dominican Republic and Mexico. Piloto Cubano is the blender's choice for the core of the cigar, and it performs quite well as it does in so many Macanudo cigars. There's a reason this company has been a mainstay for so long. Like beers with football, it's one of those things that granddads and grandsons can agree on no matter what year it is. It just doesn't go out of style.

There are dozens of outstanding cigar options, but there's room in most cigar storage spots for a box of Macanudos to light up any old-time and enjoy that classic profile.

The Gold Nugget cigar is a 4.5 x 60 robusto gordo. It's short but plenty fat enough to give you a good smoke. The flavors include warm notes like toasty bread and buttercream, baking spice, cedar, and a garnish of lemon zest. That is, if you want something that is fully tamed and lays flat, you'll want to check out some other blends from the company. If you want something that scratches that same Macanudo itch, but that delivers a couple of fun notes along with it, you've got your match.

Skip the mining and go straight for the gold.
This Macanudo Gold Label Golden Nugget Robusto Gordo cigar is made in the Dominican Republic. Outside, you'll find a Connecticut Shade wrapper. Inside, the binder is Mexican San Andres, and the filler is Mexican. This is a Short Robusto Gordo cigar with a length of 4.50 and a ring gauge of 60.
Please browse our selection of Macanudo Gold Label Gold Nugget cigars at your leisure.

• What are the flavors like?
o Toasty bread, buttercream, cedar, baking spice, lemon zest

• What's the strength level?
o Mild

• Who is this cigar for?
o Macanudo Gold Label Gold Nugget cigars are for fans of coffee sticks who want a bit more novelty from their next puff.

• Will I want to smoke it to the nub?
o Yes, the flavors are definitely in the zone of enjoyability.

• What's a good pairing with it?
o Coffee with cream

• What's the best time/place to smoke this cigar?
o Your favorite morning smoke spot

• Any flaws/downsides?
Grass and mineral notes sometimes pop up in certain sticks.
Payment & Security
Your payment information is processed securely. We do not store credit card details nor have access to your credit card information.