LAtelier Racine ERB Limited Edition Perfecto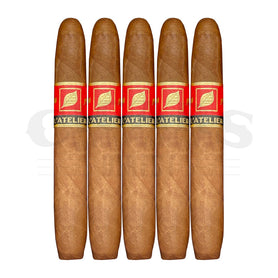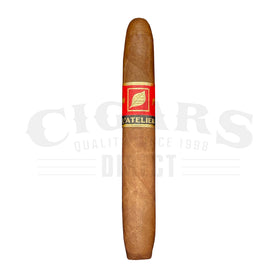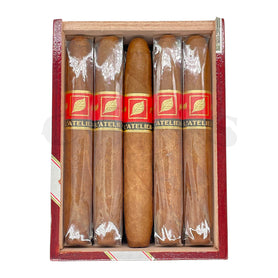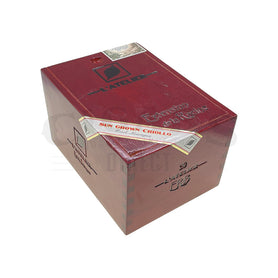 L'Atelier Racine ERB cigars are a sophisticated take on a L'Atelier signature blend using sancti spiritus tobacco. This refined leaf is named for a growing region of Cuba, and is a hybrid of the criollo and pelo de oro varietals.

The latter of these is a favorite of José "Don Pepin" Garcia, a longtime collaborator with Pete Johnson, founder of L'Atelier and more popularly known as the force behind Tatuaje cigars. These two share a love of fine tobacco and excellent craftsmanship in cigarmaking, and so pioneering the use of the Sancti Spiritus leaf is another step forward in elevating their art to ever higher levels.

Racine is a blend line you may have seen before. It has not been available for a while, but we are glad to see it getting some love again in this limited ERB release. The letters stand for "Edición Racine Britanicas," which is how this 5 3/8 x 48 perfecto vitola is described in Cuba. You'll see a few other Tatuaje blends in this format, and it offers an attractive smoke for folks who don't want something overly large – it's right in the sweet spot.

L'Atelier Racine ERB cigars are tried and true Nicaraguan puros, featuring a criollo wrapper over a sancti spiritus binder and long-filler blend that also has some sancti spiritus bunched into the mix. The flavor profile shows many different dimensions. This is a blend that covers a lot of interesting ground and has more faces than Jim Carrey practicing in the mirror. There's wood and leaves, sweet and bitter fruits, earthiness, pepper, and tons of sub notes in between. You'll get your money's worth if you're someone who lights up expecting to be taken on a journey.

A beautiful example of new-breed Nicaraguan smoke, all in all.
This LAtelier Racine ERB Limited Edition cigar is made in Nicaragua. Outside, you'll find a Nicaraguan Criollo wrapper. Inside, the binder is Nicaraguan, and the filler is Nicaraguan. This is a Full-bodied Perfecto shaped cigar with a length of 5.38 and a ring gauge of 52.
Please browse our selection of L'Atelier Racine ERB cigars at your leisure.
• What are the flavors like?
o Fresh cut wood, berries, earth, pepper – lots of shifts

• What's the strength level?
o Medium

• Who is this cigar for?
o L'Atelier Racine ERB cigars are for fans of odd notes and flavor journeys.

• Will I want to smoke it to the nub?
o It's kind of impossible to get bored with

• What's a good pairing with it?
o This is one of those cigars we'd recommend enjoying solo, but we'll go out on a crazy limb and suggest a light fruit seltzer to pair with it.

• What's the best time/place to smoke this cigar?
o Might make for one of the most interesting wake-up cigars in your humidor.

• Any flaws/downsides?
o Can have occasional minor construction issues. Uncharacteristic for Garcia family operations, who are world-class when it comes to rolling a stick that is not only functional but beautiful.
Payment & Security
Your payment information is processed securely. We do not store credit card details nor have access to your credit card information.