Joya de Nicaragua Red Toro Exclusive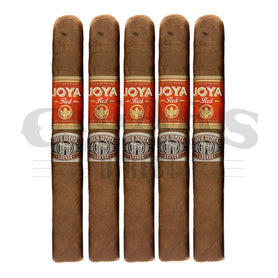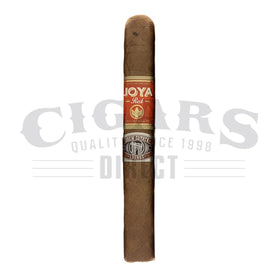 While many Joya de Nicaragua blends are full strength and totally revved up, the Joya Red Box Pressed Toro distributed by Drew Estate is a different beast. It's not a beast at all, actually, it's a medium strength cigar that's not a powerhouse in terms of strength: just flavor. Instead of the usual focus on top primings of potent ligero tobacco, the Joya Red is focused on different leaves, which dials back on the strength in favor of other fine qualities.

So don't let the red throw you off! There's nothing scary here (unless you're lighting up inside the house where you're not supposed to and you're risking death/castration at the hands of an angry spouse).

The Joya Red is a Nicaraguan puro that combines tobaccos from Jalapa, Condega, and of course, Esteli in the filler blend. This is all rolled up in a rich blond-brown Nicaraguan Habano wrapper. The smoke is medium-bodied, with a core of leather and delicious notes of pine, honey, and molasses. It's a high quality stick that pulled in a 91 from Cigar Aficionado, and gets our stamp of approval, too. The box pressing also helps even out and concentrate the flavors, giving you a stable burn and smoking experience with fewer peaks and valleys as you go along.

It's a fine blend from the Joya team, and only available from Drew Estate Lounge partners. Pick up the Joya Red Box Pressed Toro while you can!

Payment & Security
Your payment information is processed securely. We do not store credit card details nor have access to your credit card information.