JFR Lunatic Maduro 10 x 100 Belicoso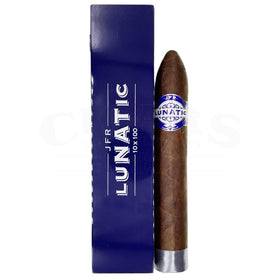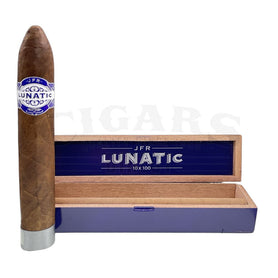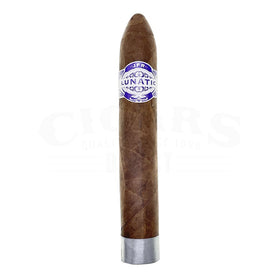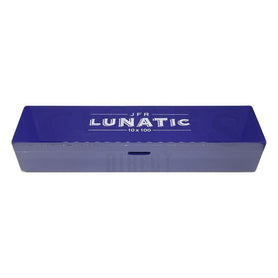 This JFR Lunatic Maduro 10 x 100 Belicoso cigar is made in Nicaragua. Outside, you'll find a San Andres wrapper. Inside, the binder is Nicaraguan, and the filler is Nicaraguan. The JFR Lunatic Maduro 10 x 100 Belicoso is a Medium to Full Bodied Belicoso Giant shaped cigar with a length of 10.00 and a ring gauge of 100.
"Your scientists were so preoccupied with whether they could, they didn't stop to think if they should."

-Dr. Ian Malcolm

What even IS this cigar?

Sitting at home, can you imagine what it's like to hold the JFR Lunatic Maduro in your hand? It's not like a normal cigar. It's ten inches long and has a ring gauge around 1 ½ inches in diameter. It's less like a cigar and more like a kielbasa ready for the grill.

They call it "The Size That Shall Not Be Named," and so we call it the 10 x 100. It's a monster. Hopefully, that's clear to anyone who adds this to their cart.

With that out of the way, let's talk about the smoking experience. Believe it or not, the stubby version of this behemoth (El Chiquito) has earned a 90 with Cigar Aficionado, marking it as a blend with promise. But, as you can probably imagine, properly blending tobacco once you're packing this much leaf into a stogie gets a little dicey.

How many leaves do the rollers even USE?

The blend is Nicaraguan. It takes roughly one entire harvest of leaf from fields in Estelí and Jalapa to fill the cigar. The binder is also Nicaraguan. Then, a blanket of fermented Mexican San Andrés tobacco is used for the wrapper.

Then comes the moment of truth: what's it like to smoke? How do you even draw on this thing?

Well, the tapered belicoso head will help. You won't have to stretch your jaw like a hungry Anaconda trying to swallow a deer. It's possible to smoke it without looking crazy. As for the cut, you could try a punch cutter or just lop off the head and go at it in standard fashion – it's up to you.

Then, it's time to taste the rainbow of flavors. And this thing has plenty! As we said, Cigar Aficionado gave another 90 points to Vitola and said, "Though mammoth and solid, this huge plug of a cigar burns and draws quite evenly." They described the flavor by saying, "An initial blast of spice calms down to show a nutty, herbal smoke with hints of graham cracker and an anise finish."

Others have tasted more in this humungous 10 x 100 version of the JFR Lunatic Maduro. Notes like cedar and cereal form the core, but there are plenty of tastes, like dried peppered meat, golden whiskey, and the saltiness of roasted sunflower seeds. It's a total feast. You're going to be quite busy.

This is an all-day smoke – an all-weekend smoke, even. You'd seriously have to be nuts to even buy it, let alone smoke it. But because we know a bunch of you are bonkers, we stock ridiculous things like this.

We beg you to report back with a review or message so we can know how it goes when the lighter meets the leaf on this one.

Please browse our selection of JFR Lunatic Maduro The Size That Shall Not Be Named cigars at your leisure.
 • What are the flavors like?
o Complex – cedar and cereal, peppered meat, whiskey, sunflower seeds

• What's the strength level?
o Medium-full

• Who is this cigar for?
o JFR Lunatic Maduro The Size That Shall Not Be Named cigars are for people
who refuse to be normal. Or who wants to go big?

• Will I want to smoke it to the nub?
o Surprisingly, it's not just a gimmick. It's a tasty smoke!

• What's a good pairing with it?
o Delirium Tremens ale, drunk out of the bottle

• What's the best time/place to smoke this cigar?
o When you want all eyes on you. Or when you want to be clubbed over the head with tobacco.

• Any flaws/downsides?
o We can't imagine a SINGLE thing anyone could find off-putting about this ever-so-slightly oversized smoke.
Payment & Security
Your payment information is processed securely. We do not store credit card details nor have access to your credit card information.