Island Jim by Oscar Torpedo Connecticut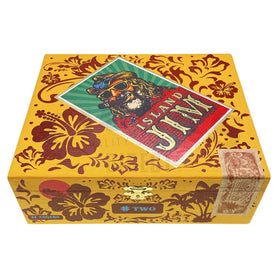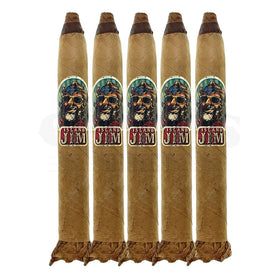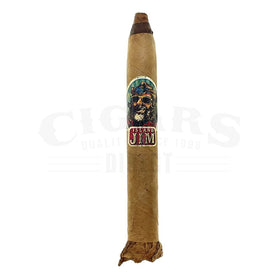 Island Jim by Oscar Connecticut cigars are the latest expansion of this line that's hotter than the Caribbean sun! What a delicious departure from the core blend we have here – one that brings a lot more to the table than the average re-wrap.

The long-filler blend is still Honduran tobacco, and the Connecticut-seed wrapper leaf was grown in Honduras as well. The flavor profile winds up being creamy, with notes of cinnamon and berries. It's quite light, actually. While the original natural and Maduro versions have a lot of complex flavor and strength, this is the island breeze rolling in warm and gentle. The hammock is swaying. The ocean is lapping calmly at the shore. There's a cold long-neck beer in your hand.

Can you see it? That's what we're going for, here.

For those folks just getting caught up with this line of cigars, Island Jim by Oscar is a collab between a Pittsburgh area cigar shop owner (Jim Robinson) and cigar man Oscar Valladares, who randomly ran into Rocky Patel one day many years ago and whose entire life changed course. Leaf by Oscar first debuted at Jim's shop and then grew into the substantial brand they now are part of today. With this third blend, Island Jim cigars are slowly building up their own reputation for tasty smoke, too.

Last, but not least, notice the #2 pencil shape and construction of the Island Jim by Oscar Connecticut cigar. It's got a shaggy foot "eraser" and a head with two leaf portions to mimic the raw wood and pencil lead you'd see on one of your writing implements from a million years ago.

It's fun. It's tasty. It's a little slice of tropical vibes, in cigar form. Grab some and head to the beach!
This Island Jim by Oscar Torpedo Connecticut cigar is made in Honduras. Outside, you'll find a Honduran Connecticut wrapper. Inside, the binder is Undisclosed, and the filler is Undisclosed. This is a Torpedo cigar with a length of 6.00 and a ring gauge of 52.
Please browse our selection of Island Jim by Oscar Connecticut cigars at your leisure.

• What are the flavors like?
o Cream, cinnamon, berries

• What's the strength level?
o Mild-medium

• Who is this cigar for?
o Island Jim by Oscar Connecticut cigars are for fans of light, flavorful smoke that feels like a sunny day on the shore.

• Will I want to smoke it to the nub?
o Ja mon.

• What's a good pairing with it?
o Frosty long-neck beers of your choosing. It doesn't matter what you get, so long as it's on ice.

• What's the best time/place to smoke this cigar?
o Seaside. In the sun or the shade – it's up to you.

• Any flaws/downsides?
o Nah.
Customer Reviews
Write a Review
Ask a Question
07/01/2023
Matthew B.

United States
Island jim
I got them for my pops and he loved them! Super fast delivery and appreciate what you all are doing!
Payment & Security
Your payment information is processed securely. We do not store credit card details nor have access to your credit card information.