HVC La Rosa 520 Rare or Rare Belicoso 2022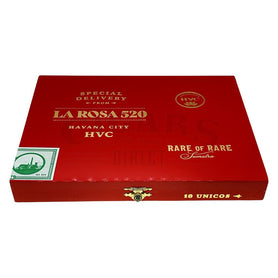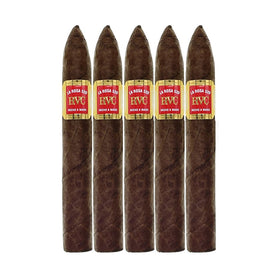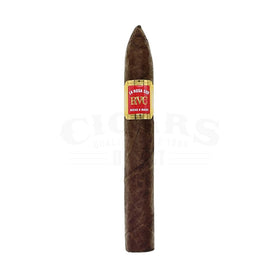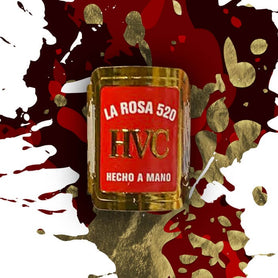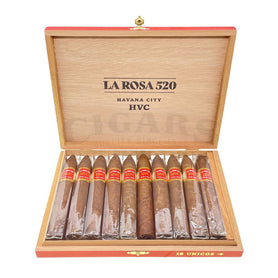 This HVC La Rosa 520 Rare or Rare Belicoso 2022 cigar is made in Miami. Outside, you'll find an Ecuadorian Sumatra wrapper. Inside, the binder is Ecuadorian Habano, and the filler is Dominican Criollo 98 and Medio Tiempo from Nicaragua. This is a Belicoso Shaped Cigar with a length of 6.00 and a ring gauge of 52.
HVC founder Renier Lorenzo isn't from America, but it seems he keeps coming back to our wonderful land of the free and home of the brave. He was born in Cuba and wound up in Wisconsin, where he worked in a genetics lab. A relationship with Eduardo Fernandez of Aganorsa Leaf pulled him into the world of Nicaraguan tobacco and cigars. Lorenzo's scientific mind was well suited to the technical, biological aspects of tobacco cultivation and blending, and he soon became quite the cigar man.

He's back in the States with this HVC La Rosa 520 Rare of Rare blend, made in the USA at the famed El Titan de Bronze in Miami, Florida.

It would be a special stogie if the "rare of rare" label didn't tell you that. The leaves were chosen carefully and included a little sumpin' sumpin' that you won't find everywhere: Medio Tiempo. These are the uppermost leaves that sometimes (but not always) sprout at the top of a tobacco plant. We're used to finding standard Ligero in blends – the upper leaves that take in the sun and provide a lot of flavor and potency to cigars. But medio tiempo is different. As a kind of Ligero, it brings a similar quality to the blend. However, it is slightly different in how it is handled. It typically needs to spend more time on the stalk and often will start curing right in the field (as opposed to in the barn after harvesting). This adjusts the notes you get from smoking it.

Cohiba used it in the highly-regarded Behike, and it has developed a decent reputation as a special flavorful addition blenders can add to a cigar.

HVC La Rosa 520 Rare of Rare cigars use Nicaraguan medio tiempo in the filler, combined with Dominican criollo 98. This is then bound in Ecuadorian Habano and wrapped in Ecuador Sumatra. It's quite the bouquet of tobacco, and the flavors show it. This isn't what we could call a smooth or gentle blend. Instead, it's dashing through the snow just in time for Christmas 2022 with various holiday flavors. The toasted oak of the crackling fireplace, holiday candied nuts, and a dash of red pepper flake like you might put on a 1 a.m. slice of pizza in NYC.

Tasty!

HVC is a boutique company, and we love to see them experimenting and putting their passion for working in special stogies like this. A box of ten would make a fine companion for celebrations or holidays. It might even be a nice spicy treat for New Year's!

Please browse our selection of HVC La Rosa 520 Rare of Rare cigars at your leisure.

• What are the flavors like?
o Oak, holiday candied nuts, hot pepper flake.

• What's the strength level?
o Medium.

• Who is this cigar for?
o HVC La Rosa 520 Rare of Rare cigars are for folks who want a little kick in their holiday smoke.

• Will I want to smoke it to the nub?
o As the profile develops, it will get lovely on the palate.

• What's a good pairing with it?
o Mulled wine. Grab a merlot and follow a recipe. You'll need brandy, honey, fruits, spices, and patience while it heats. But trust us – this is an ancient holiday classic for a reason. It's impossible to feel cold when you're drinking this stuff. And it beats getting sick on homemade nog that went sideways.

• What's the best time/place to smoke this cigar?
o Holiday parties, out by the fire pit.

• Any flaws/downsides?
Will this profile turn some folks off? Sure. Hopefully, they've filtered themselves out by checking the description! We want everyone to find suitable blends for their preferences.
Payment & Security
Your payment information is processed securely. We do not store credit card details nor have access to your credit card information.