Henry Clay War Hawk Corona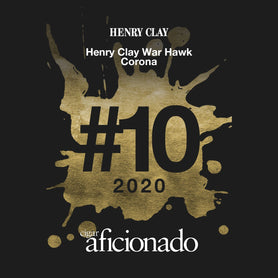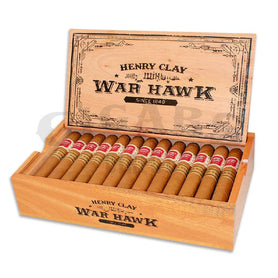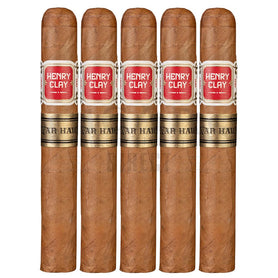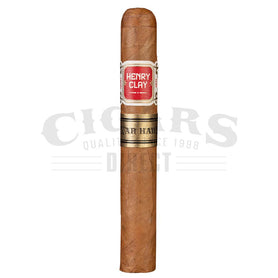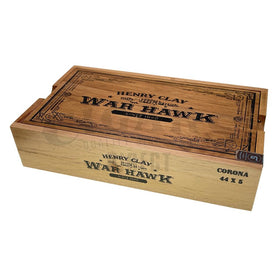 Rated 95 and Named #10 Cigar of the Year of 2020!
The number ten slot on Cigar Aficionado's Top 25 cigars list for 2020 is owned by the Henry Clay War Hawk Corona.

For the curious history students: Henry Clay was a former Speaker of the House and Secretary of State who was a major figure in American politics during the era of American territorial expansion. The "war hawk" label came from his bellicose posture toward certain matters, including another war with the British in the War of 1812.

Given that modern politics gives us all enough to grow ulcers about, let's leave the history lesson aside and focus on a more relaxing pastime, smoking cigars.

The Henry Clay War Hawk Corona cigar is made in Honduras by Flor de Copan and is built on a Honduran long-filler blend. The binder is a surprising one: Connecticut broadleaf. From that, you know that you'll get earthy complexity and a blend, unlike your average stick with a light blonde wrapper. That wrapper leaf is not surprising: Ecuadorian Connecticut shade, and it completes one of the best cigars of 2020.

The Cigar Aficionado judges called out bright flavors of citrus, spice, and nutmeg, as well as the sneaky and surprising strength (listed as somewhere around medium). There are a lot of fine cigars that are changing up the traditional profile of Connecticut stogies. People have always enjoyed the classic coffee, cream, and cedar flavors and the dialed-back strength of a Connecticut, but some have been looking for these things to be accentuated a touch. Using a Honduran filler blend and a CT broadleaf binder are certainly ways to accomplish that goal, and probably helped bring the Henry Clay War Hawk cigar into the spotlight.

The flavors were called "bright and lively", with notes of citrus, spice, and nutmeg. Fun stuff!

If you want an interesting Connecticut, this cigar is worth a smoke.

Please browse our selection of Henry Clay War Hawk Corona cigars at your leisure.

- What are the flavors like? Citrus, spice, nutmeg
- What's the strength level? Medium
- Who is this cigar for? The Henry Clay War Hawk is a cigar for southern historians and fans of Connecticut who are ready for a bit of a flavor and strength increase.
- Will I want to smoke it to the nub? It's an interesting blend, one that people are really enjoying. We expect you'll want to nub it.
- What's a good pairing with it? This one says "whiskey" to us, as so many do. We'd grab straight rye from Kentucky from Elijah Craig, that stuff is just too good.
- What's the best time/place to smoke this cigar? When you're trying to convince people to go to war or just stoking the flames of conflict in general.
- Any flaws/downsides? Traditionalists probably won't put this at the top of their list of Connecticut cigars.
Customer Reviews
Write a Review
Ask a Question
04/04/2021
Philip J.

United States
Henry Jay War Hawk Corona
Overall not bad for a smoke deeming this was smooth, not obtrusive & seemingly well balanced for what I got (unsure if I have smoked previously) but nevertheless I was well set for a smoke for the afternoon & this gave me something to do other than watching the Lightning get embarrassed by the Red Wings (sorry Tampa Bay).
Philip, Thank you for the great review! We appreciate you taking the time to leave a review and for doing so I want to offer you this Promo Code for 12% off your next purchase! CODE: REVIEW12
Cry War Hawk
A delicious little corona ! Good draw, even burn, solid flavor and just the right amount of strength. A pleasurable smoke. Would definitely order again
04/22/2021
JOHN F.

United States
Good QPR
Nice smoke. Good cedar spice and depth of flavor. Good for the money
Payment & Security
Your payment information is processed securely. We do not store credit card details nor have access to your credit card information.