God of Fire KKP Special Reserve 4 Cigar Sampler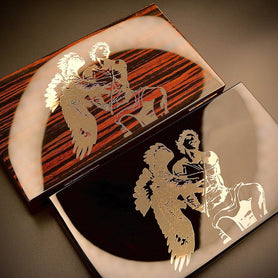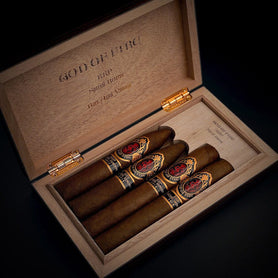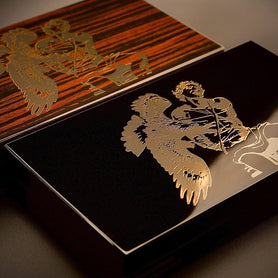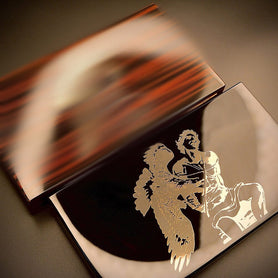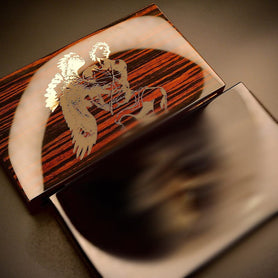 These Gorgeous and Very Limited God of Fire KKP Special Reserve 4 Cigar Samplers come in 2 colors (Macassar and Black) and contain the following cigars:
(2) God of Fire KKP Special Reserve Gran Toro
(2) God of Fire KKP Special Reserve Piramide 58

These God of Fire KKP Special Reserve cigars are almost too pretty to smoke. And likewise, the high-end travel humidor they come in is almost too pretty to touch.

But all men know that if a ten somehow ends up in your lap, there's nothing to do but treasure her. So, treasure this sampler we shall.

Let's start with the Prometheus humidors, available in your choice of Macassar ebony or black lacquer. You will no doubt be keeping these boxes in a place of honor unless you're giving the sampler as a fine gift. The gold color inlay image of Prometheus bound, beset by his eagle, makes for a gorgeous statement piece to set on a smoke lounge or study table. Your office desk certainly would be another good location for it.

It's the kind of thing you want to touch every time you see it.

You'll find four cigars inside the ornate lid of the God of Fire KKP Special Reserve 4 Cigar Sampler. Two of the KKP Special Reserve blends are offered in the 56 x 6 Gran Toro size and the 58 x 5 1/4 Pyramid. These Dominican cigars were once made to celebrate the 30th Anniversary of Prometheus in 2022. This incredibly rare blend is being rolled up again by the company's illustrious cigar partners for the project: the House of Fuente.

Yes, that Fuente. These are a sibling to OpusX cigars in our minds.

The aged Dominican blend is luxurious, crafted to compete with any of the best cigars found on Cigar Aficionado's yearly lists. Pull one out, relish the aroma, and then clip the head. Then, pull out your Prometheus lighter (not mandatory, but expected for hardcore fans here who want the ultimate experience). Flick the ignition and toast the foot of the KKP Special Reserve. Take in a hearty draw and taste the cedar and nutty caramel. Note the leather in the smoke. And relish the finish with complex hints of anise and sweet dried fruit.

As always, Fuente offers an unparalleled experience.

For Father's Day, birthdays, retirements, and any other of life's fancy milestone occasions, consider acquiring one of these God of Fire KKP Special Reserve 4 Cigar Samplers. Just don't consider it too long. Supplies are limited, and we don't expect our private stash to last long.
Payment & Security
Your payment information is processed securely. We do not store credit card details nor have access to your credit card information.