Excalibur Illusione L.E. No.1 Double Corona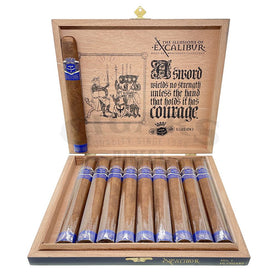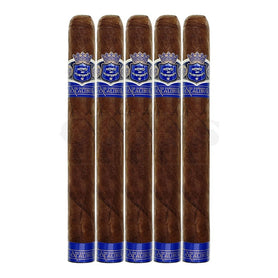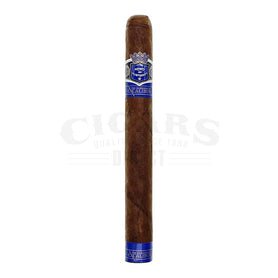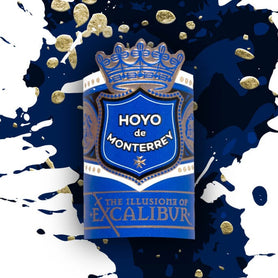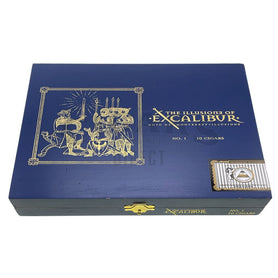 This Excalibur Illusione Limited Edition No. 1 Double Corona cigar is made in Nicaragua. Outside, you'll find a Corojo 99 wrapper. Inside, the binder is a Corojo 2012 from Nicaragua, and the filler is a blend of Nicaraguan Criollo and Corojo grown in Esteli. This is a Double Corona cigar with a length of 7.25 and a ring gauge of 54.
The Excalibur Illusione Limited Edition is a new blend, and at the same time, it's not. Hoyo de Monterrey's team has been making Excalibur cigars for quite some time. Illusione founder Dion Giolito used to view them as a welcome indulgence when he had extra dollars to spend at the cigar shop on his college student budget. After many years of success, Giolito was asked to craft a new blend for the brand to put his signature spin on things. Giolito's "signature spin," for those who smoke Illusiones, is to find impeccably high-quality tobacco (usually Nicaraguan) and blend it not for the broad audience but for the true cigar lovers for want a smoking experience that is a cut above. He usually exceeds expectations, putting together one highly-rated blend after the other.

We expect the reception for "The Illusione of Excalibur" cigar to be no different.

The goal was to create something with a reasonably bold character, so a slate of Nicaraguan tobaccos was chosen to display authentic flavor and potency. The filler blend is classic Estelí. This is then accompanied by a Jalapa Corojo 2012 binder and a Jalapa Corojo 99 wrapper. Corojo, for decades, has been a traditional choice for strong Cubanesque flavors. It remains a hardy and satisfying leaf to include in a blend in the showcase cover leaf position.

Pepper, wood, and cream greet you as you get in your first draw. Settle in because the first vitola is a 7.25 x 54 double corona that will puff you up for some time – even longer than the average big cigar. Pulling the proverbial sword from the stone isn't done in a single decisive stroke but in a series of dedicated tugs over a few hours. The tobacco crackles with the aroma of firewood as you continue, finishing with an earthy chocolate profile that sends you on your way in joyful spirits.

You have to be ready for a fairly epic campaign with this one. We'd call it an all-day cigar without any irony whatsoever. But this mighty weapon will vanquish your worries and cares in the battle of life. This Excalibur Illusione Limited Edition cigar is a smokable vacation unto itself.

"A sword wields no strength unless the hand that holds it has courage."

Just lighting this thing up takes bravery. Godspeed, gentlemen.

Please browse our selection of Excalibur Illusione Limited Edition cigars at your leisure.
• What are the flavors like?
o Pepper, cream, firewood, chocolate.

• What's the strength level?
o Medium-full.

• Who is this cigar for?
o Illusione of Excalibur cigars are for fans of Giolito's Nicaraguan blending tendencies who want an epic version to enjoy.

• Will I want to smoke it to the nub?
o He or she who smokes the whole thing shall lead us into a new era of stogie history.

• What's a good pairing with it?
o Several beers. Our recommendation is a scotch ale, like Founder's French Toast Bastard. 11% ABV. Plan accordingly.

• What's the best time/place to smoke this cigar?
o When you're preparing to fulfill a legendary prophecy from antiquity.

• Any flaws/downsides?
o Most people will only get halfway through a casual smoke before realizing what they've gotten into.

Customer Reviews
Write a Review
Ask a Question
02/22/2023
Tommy B.

United States
Great cigar
My boyfriend brandon really enjoyed the cigar great buy
Payment & Security
Your payment information is processed securely. We do not store credit card details nor have access to your credit card information.