Knuckle Sandwich Connecticut Toro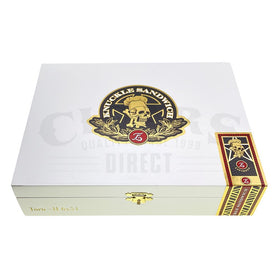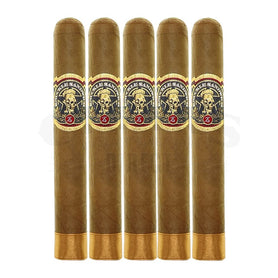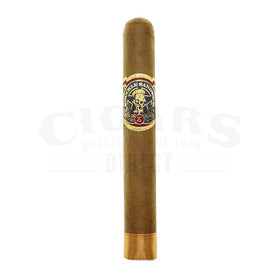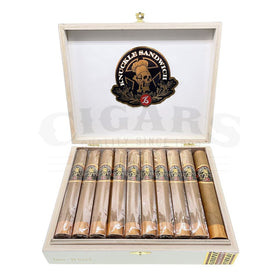 Not every trip to Flavor Town has to be over the top. Not everything has to be jalapeño spicy barbeque style, you know?

The Espinosa Knuckle Sandwich Connecticut cigar is a smoother version of the hit blend from Guy Fieri and Erik Espinosa. The original Habano version was a 92-point smoke that actually landed on Cigar Aficionado's best-of list for 2022. So naturally, we need some follow-ups to enjoy all the different facets of the blend properly. Really, this CT version is about providing smokers options – it's building out the menu at a new pop-up restaurant that's taking our "tobacco city" by storm.

There are already habano, maduro, and habano rosado versions out there. Now, to show a different side of the smoke, there's an Ecuador Connecticut on the market. This is combined with a Nicaraguan binder from Jalapa and the same Nicaraguan filler leaves that have been powering this one into the spotlight under that bright heat lamp at the back of the house.

Admit it – you're surprised to see this blend doing so well!

We expect comfort food with loud personality from Guy and his team, but a refined quality experience. This guy is more dangerous than we thought. And, of course, tremendous credit goes to Erik Espinosa, too. He's nailed quite a few very big blends like 601 La Bomba, the 94-rated Warzone and Laranja blends, and Crema. The dude is a menace at the blending table, making smokes that totally captivate your palate and provide something that will absolutely be memorable.

Espinosa Knuckle Sandwich Connecticut cigars take things in a smoother direction, offering some of the pepper but more of the creamy coffee and leather than you would find with other versions of the blend. It's not meant to be a kicker – more of a mellow smoke that gives you something to smoke with dessert and after-dinner drinks.

Our compliments to the chef!

This Espinosa Knuckle Sandwich, Connecticut Toro cigar, is made in Nicaragua. Outside, you'll find an Ecuadorian Connecticut wrapper. Inside, the binder is Nicaraguan, and the filler is also Nicaraguan. This is a Toro cigar with a length of 6.00 and a ring gauge of 54.
Please browse our selection of Espinosa Knuckle Sandwich Connecticut cigars at your leisure.

• What are the flavors like?
o Pepper, creamy coffee, leather

• What's the strength level?
o Mild-medium

• Who is this cigar for?
o It's for fans of Knuckle Sandwich who thought that something a touch smoother would be nice.

• Will I want to smoke it to the nub?
o For sure, dude.

• What's a good pairing with it?
o Sweet cocktails after dinner

• What's the best time/place to smoke this cigar?
o  This could be a nice coffee smoke, but it would also be fine after a meal.

• Any flaws/downsides?
o  Many fans will prefer the stronger side of this blend line, but the CT is definitely going to land with those who prefer smoothness.
Payment & Security
Your payment information is processed securely. We do not store credit card details nor have access to your credit card information.