Knuckle Sandwich Chef's Special Box Pressed Figurado L.E.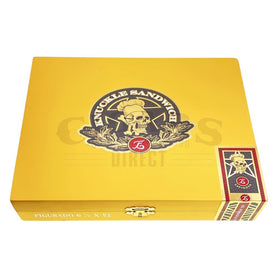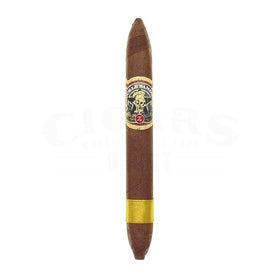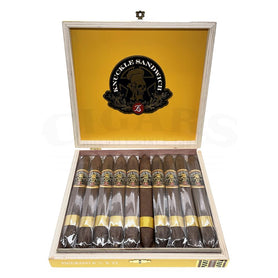 Folks, you better log in and check your frequent flyer miles because it's time for your annual trip to Flavor Town! Guy Fieri and his tobacco partner Erik Espinosa have loaded up the cargo hold with tasty stogies, and we're all invited to come along for the ride.

This is the newest blend off the back-of-house table. It's the Espinosa Knuckle Sandwich Chef's Special. The original Knuckle Sandwich blends were surprisingly great. When you hear Guy Fieri is involved with a cigar, you might think it will be humble and fun, but probably no big deal, right?

But you'd be wrong. It is Wronger than a street taco without hot sauce.

Guy Fieri's foray into the cigar world has been a certified hit. Cigar Aficionado was forced to include it on their Best Cigars of 2022 list simply because of the goodness of the smoke. It scored 92 points and earned the #23 spot between the Tatuaje Capa Especial and La Gloria Cubana's Classic Gloria. Not bad company! It was nutty, peppery, and totally satisfying.

The Chef's Special cigar is something of a limited edition tweak. Now, the wrapper is upgraded to a Habano Rosado wrapper with the same delicious Nicaraguan long-fillers. The smoke is made at A.J. Fernandez's San Lotano factory, so you know the "line cooks" are making everything with love.

It winds up being more refined than the Maduro version. The Espinosa Knuckle Sandwich Chef's Special profile is primarily oaky, with touches of molasses sweetness, pepper, and cream. It's not the same comfort order you'd put in at the diner. Instead, it's something that you get off the menu once in a while and really enjoy, and then wonder why you don't get it more often.

It's box-pressed for pleasure, and we recommend ordering something from the bar while waiting. The chef will be with you shortly.

This Espinosa Knuckle Sandwich Chef's Special Box Pressed Figurado L.E. cigar is made in Nicaragua. Outside, you'll find an Ecuadorian Habano Rosado Oscuro wrapper. Inside, the binder is Nicaraguan, and the filler is also Nicaraguan. This is a Figurado cigar with a length of 6.50 and a ring gauge of 52.
Please browse our selection of Espinosa Knuckle Sandwich Chef's Special cigars at your leisure.
• What are the flavors like?
o Charred oak, molasses, pepper, cream

• What's the strength level?
o Medium-full

• Who is this cigar for?
o Folks who want a flavorful ride with a touch more sophistication than the original

• Will I want to smoke it to the nub?
o Clean plate club!

• What's a good pairing with it?
o We'd go for a Fireball Whiskey orange sweet tea. We bet Guy could get behind something fun like that.

• What's the best time/place to smoke this cigar?
o While waiting for a nice meal to be cooked by someone with skill.

• Any flaws/downsides?
o Limited edition blends always have to contend with the experience of the original, and the original is in the spotlight for a reason.
Payment & Security
Your payment information is processed securely. We do not store credit card details nor have access to your credit card information.