E.P. Carrillo Pledge Firecracker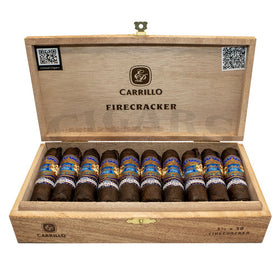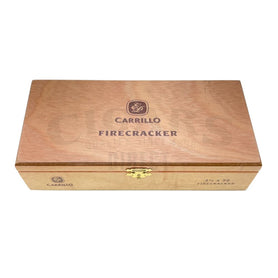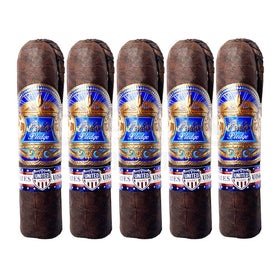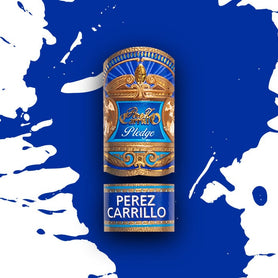 A 98-point Cigar of the Year, in a Firecracker? Oh, baby. There's no way there's going to be enough of them to go around. We should hoard these instead of selling them, but that's not how we run things at Cigars Direct.

We're givers.

The E.P. Carrillo Pledge Firecracker is a masterpiece and a fun novelty, all in one. The masterpiece part is the award-winning blend that has captivated smokers since it first hit their lips, and just won't let go. The Nicaraguan long-filler, the Ecuadorian binder, and the Connecticut habano wrapper all combine for an incredibly zippy experience from beginning to end.

Cigar Aficionado called it "a delicious smoke that delivers flavor in bold, zesty parcels of spicy oak, licorice, black cherry, and black pepper." Then they kept pulling on it until they were compelled to state that, "Baking spices sing like a holiday chorus, and when you think you've tasted all the cigar has to offer, a warm, familiar note of baked apple settles across the palate."

It's Christmas in July, and the E.P Carrillo Pledge Firecracker is the one stick you won't want to fire off into the night sky.

Firecracker cigars are 3.5 x 50 stogies that come complete with a wick at the head. Many high-quality blends have been rolled up into this size and shape. It was first conceived by United Cigars and executed by Don Pepin (of My Father fame). Since then, many other blends have joined in the fun. We should note that the wick isn't for lighting. Instead, you can pull or clip it off and light the other end of the cigar.

This ain't your average summer barbeque burner, folks. This is the gen-yoo-wine article. The cream of the crop. The primo stuff.

It's Ernesto Perez-Carrillo's finest work, in a smoke that's just perfect along with a firework display.

How convenient.
This E.P. Carrillo Pledge Firecracker cigar is made in the Dominican Republic. Outside, you'll find a Havana Seed Connecticut wrapper. Inside, the binder is Ecuadorian, and the filler is Nicaraguan. The E.P. Carrillo Pledge Firecracker is a Full-bodied Short Robusto-shaped cigar with a length of 3.50 and a ring gauge of 50.
Please browse our selection of E.P Carrillo Pledge firecracker cigars at your leisure.

• What are the flavors like?
o Oak, licorice, black cherry, baking spice, and baked apple

• What's the strength level?
o Medium-full

• Who is this cigar for?
o E.P Carrillo Pledge firecracker cigars are for folks who want to have fun and enjoy one of the best smokes on Earth.

• Will I want to smoke it to the nub?
o You'll lick your fingertips after you burn them.

• What's a good pairing with it?
o Cold cooler porters

• What's the best time/place to smoke this cigar?
o Summer nights when only the best will do

• Any flaws/downsides?
o Not a one.
Payment & Security
Your payment information is processed securely. We do not store credit card details nor have access to your credit card information.