El Septimo Sacred Arts Salvador Dali Toro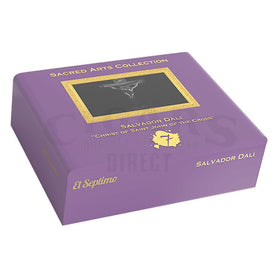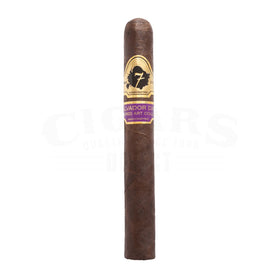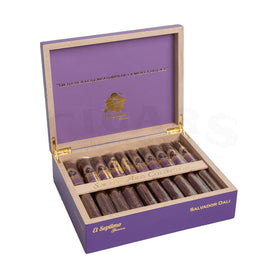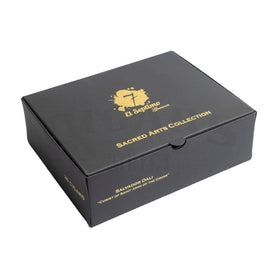 El Septimo Sacred Arts Salvador Dali cigars celebrate a man known for melting clocks and melting our minds with wild and weird art. But at the same time, this blend is like the six others in the Sacred Arts series. It also honors a day of the first week of creation in the Bible – specifically, the fifth day, on which God created ocean life and birds. And the painting honored by this blend is not what you might have guessed until you learned that biblical connection. Dali painted a work called Christ of Saint John of the Cross, which shows Christ from above, suspended painfully on the Cross. It's an enduring representation and a surprising subject for the offbeat artist to choose.

But on to the cigar at hand, we must go.

This is a luscious 6 x 54 toro. El Septimo describes their Salvador Dali cigar as covered in a "dark chocolate, oily firmly packed wrapper with a fine tooth, large double cap and rich sweet musty cocoa aroma." It's a chocolate bar, essentially. You're going to want to take a bite. And if you haven't got a cutter at hand, that just might be what you'll do. But if you're in a more civilized mood and you snip the tip of this one using your dedicated tool, you'll be treated to a really nice experience. This one toasts up with flavors of coffee but also dark stone fruit and cake. Notes of vanilla and that classic leathery flavor that comes with earthy tobacco are also in the mix.

The specifics on the blend of the El Septimo Sacred Arts Salvador Dali cigar are absent. The company seems to delight in mystery and the simple experience of buying a cigar and judging it completely on its own merits. We do know that Costa Rican tobacco figures largely in the company's blends and that extensively aged leaf is common on this particular line. The price tag is set to match, of course, but many really enjoy these stogies even if the details are absent.

The Lord works in mysterious ways, and so does the blending team at El Septimo. We can attest, however, that many blends in this line have been surprising in how nice they are to smoke. Don't be shocked if your Sacred Arts blend lives up to the hype!

This El Septimo Sacred Arts Salvador Dali Toro cigar is made in Costa Rica. Outside, you'll find an undisclosed wrapper. Inside, the binder is undisclosed, and the filler is undisclosed. This is a Medium strength Toro-shaped cigar with a length of 6.50 and a ring gauge of 54.
Please browse our selection of El Septimo Sacred Arts Salvador Dali cigars at your leisure.

• What are the flavors like?
o Coffee, cherries, cake, leather

• What's the strength level?
o Medium

• Who is this cigar for?
o El Septimo Sacred Arts Salvador Dali cigars are for spiritual artists

• Will I want to smoke it to the nub?
o The reviews have blessed this one. It's good!

• What's a good pairing with it?
o Dali might have recommended absinthe. If you have it in your liquor cabinet, you're one in a thousand, though.

• What's the best time/place to smoke this cigar?
o When you're ready to take a break from normality

• Any flaws/downsides?
o Nothing we've heard yet!
Payment & Security
Your payment information is processed securely. We do not store credit card details nor have access to your credit card information.