El Septimo Sacred Arts Raphael Robusto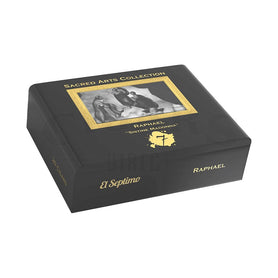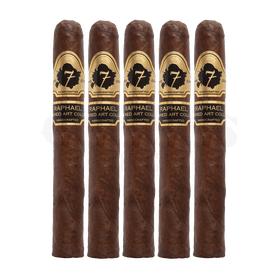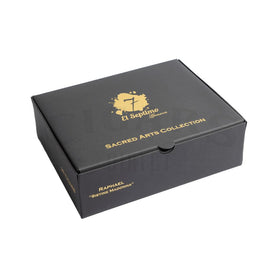 The El Septimo Sacred Arts Raphael cigar is fantastic. Even though the review was done in January, colorful cigar reviewer Phil "Katman" Kohn described it as his best smoke of 2023 (so far), barely able to keep up with its complexity and transitions, and said that "seasoned smokers will be spoiled rotten by this blend."

If the Katman's all over it, it's probably a wonderful cigar. It's that simple. He's not shy about crapping on a stick when the smoke just doesn't measure up. And he does it in terms that would make a teamster blush, too.

Anywho…

The Sacred Arts Raphael cigar is a perfectly apportioned 6 x 50 Robusto, which apparently has an extensively aged wrapper. Ten years of maturation have gone by to make this one special. More than that, we don't know. Leaf origins and types are a mystery, and we simply have to take this stogie on its merits. So far, it's off to an impressive start. Hopefully, the consistency is there and people will all get a magical experience from the Sacred Arts Raphael.

It's part of a seven-blend series, with each cigar using a unique mixture of tobaccos. We suspect there is some carryover from stick to stick, but can't say for certain without El Septimo chiming in. And they've offered these smokes up without details added. They'll live and die by the smoke experience, which by all accounts can be truly great.

Each blend in the Sacred Arts series is built to honor a particular work by a famous artist, as well as one of the seven days of creation laid out in Genesis in the Bible. This cigar is inspired by Raphael's Sistine Madonna painting and honors the fourth day of creation when God created the sun, moon, and stars.

Toast it up, look to the heavens, and experience a wealth of masterpieces all at the same time.

Life's not so bad, after all.
This El Septimo Sacred Arts Raphael Robusto cigar is made in Costa Rica. Outside, you'll find an undisclosed wrapper. Inside, the binder is undisclosed, and the filler is undisclosed. This is a Medium strength Robusto shaped cigar with a length of 6.00 and a ring gauge of 50.
Please browse our selection of El Septimo Sacred Arts Raphael cigars at your leisure.

• What are the flavors like?
o Peanut oil, cocoa powder, raisin, dark roasted coffee

• What's the strength level?
o Medium

• Who is this cigar for?
o El Septimo Sacred Arts Raphael cigars are for those who can recognize the work of a master when they see it

• Will I want to smoke it to the nub?
o Yes. Oh yes.

• What's a good pairing with it?
o This is a great cigar to enjoy solo. The flavors are a real experience.

• What's the best time/place to smoke this cigar?
o Outside on a clear night.

• Any flaws/downsides?
o We wonder if the consistency will be there.
Payment & Security
Your payment information is processed securely. We do not store credit card details nor have access to your credit card information.