El Septimo Luxus Short Dream Amarillo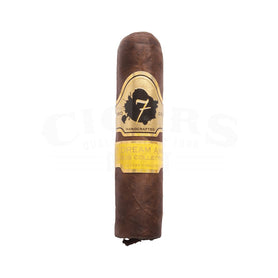 El Septimo Luxus Short Dream Amarillo cigars are a 4 x 60 smoke that is not very long, but is rolled to be "hefty and thick," the company says. You get a nice tobacco snack in a short format that, believe it or not, is not the shortest in this line of cigars. Luxus has quite a bit of variety and even has some 2-inch smokes in the X-Trem Shot and Small Impact that are perfect for people who have no time to smoke, but who want something really enjoyable for their limited opportunity to relax.

The Short Dream Amarillo is quite a bit more substantial than that.

The blend is built along familiar lines for the Luxus group, which is focused on extensively aged Costa Rican tobacco. Not only is El Septimo daring to be different by working so closely with Costa Rican leaf, but they're going deep into the aging process, making cigars that go well beyond the standard few years that most companies will spend developing their tobacco.

El Septimo Luxus Short Dream Amarillo cigars bring "incomparable burnability and balance between aroma and strength." They're surprisingly mellow, in our opinion. Many small cigars try to offer a bit of personality to make up for the brief duration of the smoke time, but this one stays in its lane and comes in at mild-medium strength. It offers flavors of seared meat, white pepper, and herbs. There's a lot to enjoy. The cigar doesn't try to knock you over at all. Instead, it's a special experience in a compact package.

The company describes it as "perfect for connoisseurs craving a great density." Lush smoke and a relaxing experience are yours in this pudgy stub from the Luxus series.

To sleep, perchance to dream? Spark the lighter and let's see where your thoughts go.
This El Septimo Luxus Short Dream Amarillo cigar is made in Costa Rica. Outside, you'll find an undisclosed wrapper. Inside, the binder is undisclosed, and the filler is undisclosed. This is a Full-strength Gordito shaped cigar with a length of 4.00 and a ring gauge of 60.
Please browse our selection of El Septimo Luxus Short Dream Amarillo cigars at your leisure.

• What are the flavors like?
o Charred meat, white pepper, herbs

• What's the strength level?
o Mild-medium

• Who is this cigar for?
o El Septimo Luxus Short Dream Amarillo cigars are for folks who want a flavorful, mild-medium-aged blend to hold their interest.

• Will I want to smoke it to the nub?
o There's more than enough flavor to keep you under its spell.

• What's a good pairing with it?
o We're in for a chill whiskey to go with this one. Sexton Irish is affordable and drinkable.

• What's the best time/place to smoke this cigar?
o When you get home from work first and there's no one around to bother you.

• Any flaws/downsides?
o  Reviewers haven't pointed anything out yet!
Payment & Security
Your payment information is processed securely. We do not store credit card details nor have access to your credit card information.