El Septimo Luxus Rebelde Blue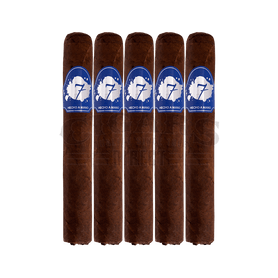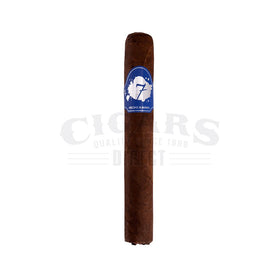 El Septimo Luxus Rebelde Blue cigars are among the stronger offerings in the ten-blend line, which is focused on aged Costa Rican tobacco. While the industry is busy enjoying Nicaragua's finest leaf, El Septimo is working diligently to produce the best blends they can at farms in the nation's neighbor to the south.

The Luxus series is among their best efforts.

Rebelde ("rebel") Blue cigars in particular use 8-year-aged leaf, and feature a rich, dark brown wrapper. Potency is turned up quite a bit. It's medium-full or full, depending on who you ask. The smoke flavor profile is at times classic, and at other times more adventurous. El Septimo says that it "finds its balance in the rich Cuban range." This is mostly true. Cedar and pepper seem to be the leading notes. But as you go along, something more herbal comes to life. Some folks cite "barnyard" flavors, while El Septimo calls out bark.

It's all-natural, no matter which way you slice it.

El Septimo Luxus Rebelde Blue cigars are 5.5 x 56, so you're getting a lot of smoke time in the bargain. It's a slow burn, but the stogie even manages to find a higher gear towards the final third as the "strength arises to a crescendo." While others in the Luxus series focus on a milder experience, Rebelde Blue tries to take you by the hand and run off into the woods. It does so with premium tobacco that has been developing for almost a decade.

In essence, the manufacturer calls it "a voluptuous and invigorating model for experienced connoisseurs." Pick up a few when you're ready for something properly flavorful and potent.
This El Septimo Luxus Rebelde Blue cigar is made in Costa Rica. Outside, you'll find an undisclosed wrapper. Inside, the binder is undisclosed, and the filler is undisclosed. This is a Medium to Full strength Robusto Grande shaped cigar with a length of 5.50 and a ring gauge of 54.
Please browse our selection of El Septimo Luxus Rebelde Blue cigars at your leisure.

• What are the flavors like?
o Cedar, pepper, herbs, bark

• What's the strength level?
o Medium-full

• Who is this cigar for?
o El Septimo Luxus Rebelde Blue cigars are for folks who want a strong take on the company's signature aged Costa Rican leaf.

• Will I want to smoke it to the nub?
o You may find that challenging, but some will get there.

• What's a good pairing with it?
o An old-fashioned would be nice. W.L. Weller Special Reserve bourbon would be our starting spirit.

• What's the best time/place to smoke this cigar?
o When you want a cigar that you can really feel.

• Any flaws/downsides?
o Na.
Payment & Security
Your payment information is processed securely. We do not store credit card details nor have access to your credit card information.